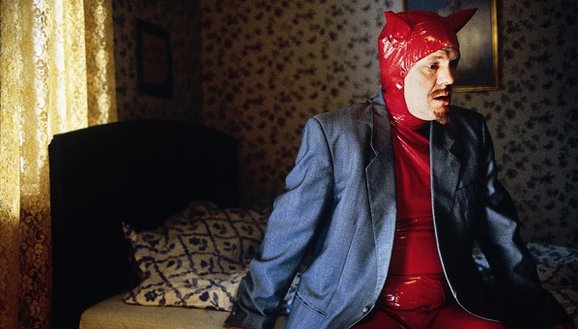 Fiasco
Set in present-day Reykjavik, Fiasco draws a narrative circle of interconnecting stories in which the three members of the Bardal household deal with the secret loves in their lives.
Synopsis
Karl, an old age pensioner, is busy chasing after an amnesic old screen legend. Julia, Karl´s granddaughter, is torn between a mediocre bank manager and a wild sailor, and tells them both she is pregnant, but is she really? Steingerdur, Julia´s mother, has a wild crush on a preacher who has a serious drinking problem, and ends up with a dead stripper in his jacuzzi. The characters cross each other as the film progresses, until the three interwoven strands of the story finally come together in an explosive and hilarious crescendo full of surprises.
About the film
Type: Feature Film
National Premiere Date: March 10, 2000
Genre: Comedy, Drama
Length: 92 min.
Language: Icelandic
Original Title: Fíaskó
International Title: Fiasco
Production Year: 2000
Production Countries: Iceland, Denmark, Germany
IMDB: Fiasco
Website: http://zikzak.is/fiasco/
Icelandic Film Centre Grant: Yes
Production Format: 35mm
Aspect Ratio: 1.85:1
Color: Yes
Sound: Dolby Stereo SR
Screening format and subtitles: 35mm film with English sub. - 35mm film with Portugeues sub. -
Crew
Cast
Company Credits
Festivals
Ultima Thule, ýmsir sýningarstaðir, Pólland, 2016
Göteborg International Film Festival, 2001
Hawaii International Film Festival USA, 2001
Jeonju International Film Festival S-Korea, 2001
Shadowline Salerno Film Festival Italy, 2001
Troia International Film Festival Portugal, 2001
Shanghai International Film Festival China, 2001
Haugesund Film Festival, 2000
Raindance Film Festival (England), 2000
Miro Vision Film Festival (S-Korea), 2000
Sao Paulo International Film Festival, 2000
Cairo International Film Festival, 2000 - Award: Special Mention for artistic contribution (Ragnar Bragason). Nominated for the Golden Pyramid (Ragnar Bragason).
Mannheim-Heidelberg International Film Festival, 2000
Edduverðlaunin / Edda Awards, 2000 - Award: Sound design (Kjartan Kjartansson, also won for Angels of the Universe, 101 Reykjavik and Witchcraft). Nomination for Actress in a Leading Role(Kristbjörg Kjeld).
Releases