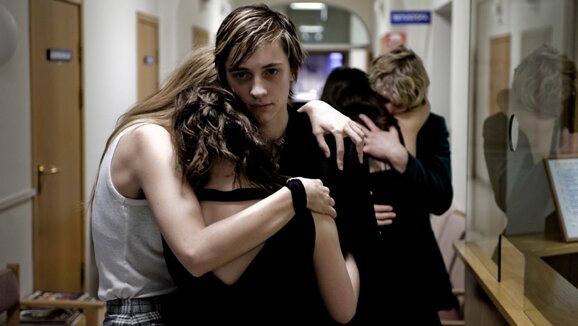 Jitters
Gabriel is a confused sixteen year old in search of his identity. Along with a few of his closest friends, he is trying to figure out who he is and where he stands in an ever changing and complicated world.
Synopsis
When Gabriel returns to Iceland from a two-week trip to Manchester, England, all those close to him seem to think that he has changed somewhat. Having met and befriended his stylist roommate Marcus in the UK, a free thinking, rebellious teenager.

Through a series of unfortunate events, tragedy befalls this tight-knit group when Stella, Gabriels best girlfriend, takes her own life. Crushed, Gabriel falls into a black hole of despair, which forces him to take a hard look at himself - which ultimately forces him to reveal a harsh, agonizing secret about himself.

What ensues is a tale of complex and fragile relationships, where teenagers struggle with their identities, while forging their place in a sometimes unyielding society. All the while coping with love, loss, hate, betrayal, euphoria, sadness and ultimately, forgiveness.
About the film
Type: Feature Film
National Premiere Date: October 15, 2010, Sambíóin í Álfabakka
Genre: Drama
Length: 93 min. 44 sec.
Language: Icelandic, English
Original Title: Órói
International Title: Jitters
Production Year: 2010
Production Countries: Iceland
IMDB: Jitters
Website: http://kisi.is/movies/jitters-2010/
Icelandic Film Centre Grant: Yes
Production Format: HDcam
Aspect Ratio: 2.39:1
Color: Yes
Sound: Dolby Stereo SR
Crew
Cast
Company Credits
Festivals
Íslensk kvikmyndahátíð, Nuuk, 2015
MIX Copenhagen, Copenhagen, Denmark,, 2012
Regensburger Short Film Week, Germany, 2012
The Melbourne Queer Film Festival, Australia, 2012
BFI London Lespian and Gay Film Festival, UK, 2012
Ciné-Jeune del'Aisne International Film Festival, France, 2012 - Award: Won ECFA (European Children's Film Association) Awards
Roze Filmdagen, Amsterdam, 2012
Cine Nordica, France, 2012
exground filmfest, Germany, 2011 - Award: Won the International Youth Film Contest.
GAFFA International Film Festival for Young People, Austria., 2011
Sao Paulo International Film Festival, 2011
Tallinn Black Nights Film Festival, Children and Youth Film Festival Just Film, Estonia, 2011
Kaunas International Film Festival, Lithuania, 2011
Athens International Film Festival, 2011
Indie Lisboa, 2011
Edinburgh International Film Festival, 2011
Seoul International Youth Film Festival, 2011
Buster Film Festival (Denmark), 2011
Warsaw Film Festival, 2011
Sprockets Toronto International Film Festival for Children and Youth, 2011
Kristiansand International Children's Film Festival, 2011 - Award: Don Quixote prize for best film in the Youth section.
Nordische Filmtage Lübeck, 2011
Zlin Zlin Filmfest, Czech Republic., 2011
Cannes Film Festival, Market Screenings, 2011
Edduverðlaunin / Edda Awards, 2011 - Award: Actor of the Year in a Supporting Role (Þorsteinn Bachmann). Nominated for Sound Design of the Year (Friðrik Sturluson, Kjartan Kjartansson). Nominated for Actress of the Year in a Leading Role (Hreindís Ylfa Garðarsdóttir). Nominated for Actor of the Year in a Leading Role (Atli Óskar Fjalarsson). Nominated for Film Score of the Year (Ólafur Arnalds). Nominated for Feature Film of the Year. Nominated for Director of the Year. Nominated for Screenplay of the Year (Ingibjörg Reynisdóttir, Baldvin Z). Nominated for Actress of the Year in a Supporting Role (Lilja Guðrún Þorvaldsdóttir). Nominated for Cinematography of the Year (Jóhann Máni Jóhannsson).
Cinema distribution
Iceland: Sambíóin Álfabakka, 2010
Iceland: Sambíóin Kringlunni, 2010
Iceland: Sambíóin Selfossi, 2010
Iceland: Sambíóin Akureyri, 2010
Iceland: Sambíóin Egilshöll, 2010