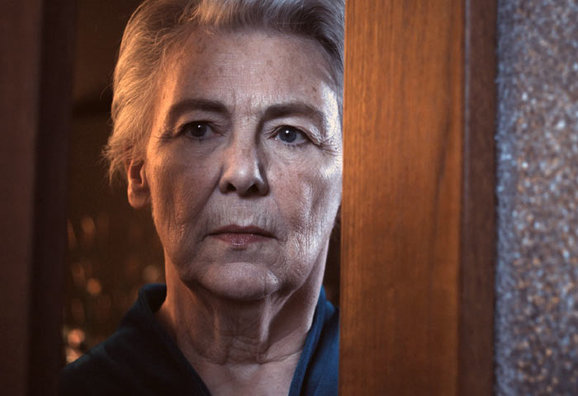 Mamma Gógó
A film director's personal journey, experiencing his mother's disappearance into the Alzheimer disease. A film with essential Fridriksson's ingredients, humor, compassion and strong visual style.
Synopsis
Mamma Gógó is about Gógó, an elderly lady, who is diagnosed with Alzheimer disease and her son's and family's reaction to her illness. While Gógó is continuously getting herself into trouble, of the kind only a person with Alzheimer can, the son, the director, is struggling with financial troubles after his film Children of Nature has flopped in the cinema. As Gógó's disease progresses her family decides that it is best for her to move to a nursing home. Gógó and her deceased husband, who appears on the scene, are not happy with that decision. The director is dependent on others when it comes to his finances and when Gógó settles into the nursing home he decides to sell his mother's apartment and valuable artwork but the profits of the sale help him to get by.

The Icelandic film 79' af stöðinni from 1961 comes to play in Mamma Gógó but the leading couple in that film were Kristbjörg Kjeld and Gunnar Eyjólfsson the same actors who play Gógó and her deceased husband in Mamma Gógó. Gógó's memories of her husband are also connected to 79' af stöðinni but scenes from the film are used in Mamma Gógó when Gógó reflects on her life while disappearing more and more into her disease.

Mamma Gógó demonstrates the tragicomical side of Alzheimer and the difficulties and conflict of the relatives is portrayed in a unique way in the mother and son's relationship. Simultaneously, Fridrik satirizes the political environment of his society which has affected his film making – for better and for worse.
About the film
Type: Feature Film
National Premiere Date: January 1, 2010, Háskólabíó
Genre: Drama
Length: 90 min.
Language: Icelandic
Original Title: Mamma Gógó
International Title: Mamma Gógó
Production Year: 2010
Production Countries: Iceland, Norway, Sweden, Germany, United Kingdom
IMDB: Mamma Gógó
Icelandic Film Centre Grant: Yes
Production Format: RED
Aspect Ratio: 1.85:1
Color: Yes
Sound: Dolby Digital
Screening format and subtitles: 35mm w. English sub. - 35mm w. French sub. DCP w. English sub. - DigiBeta w.English sub. - Blu Ray w, English sub.
Crew
Cast
Company Credits
Festivals
Festival Cinemá d'Alés - Itinérances, 2014
Salisbury International Arts Festival, 2014
Scandinavia House New York, USA, 2013
Film festival by the Sea, Holland, 2012
Two Riversides Film and Art Festival, Pollandi, 2012
4 Steps into the Great North - Icelandic Days, Rome, Italy, 2012
Tokyo Northern Lights Festival, Japan, 2012
Fajr Festival International Film Festival, Teheran, Iran, 2012
Festival Air d'Islande, France, 2012
A L'est du Nouveau, Mont-Saint-Aignan, France, 2012
Scandinavian Film Days Bonn, 2011
Polar Lights International Arctic Film Festival, Murmunsk, 2011 - Award: Best actress in a leading role (Kristbjörg Kjeld).
Cleveland International Film Festival, 2011
Washington DC International Film Festival, 2011
Minneapolis St. Paul International Film Festival, 2011
Skandinavische Film Tage Bonn, 2011
Arctic Film Festival, 2011
Espoo Cine Finnland, 2011
Stony Brook Film Festival, 2011
Shanghai International Film Festival, 2011
Fünf-Seen-Filmfestival, Germany, 2011
Galway Film Fleadh, Ireland, 2011
Gimli Film Festival, 2011
Festroia International Film Festival (Portugal), 2011 - Award: Audience Award.
Göteborg International Film Festival, 2011
Cinequest Film Festival, 2011
Miami International Film Festival, 2011
Sofia International Film Festival, 2011
Guadaljara International Film Festival, 2011
Cinema Mundi International Film Festival, 2011
Istanbul Film Festival, 2011
Filmfest DC, 2011
Taste of Iceland, 2011
Scottsdale Film Festival, 2011
Sagenhaftes Island / Deutsches Film Museum, 2011
Tashkent International Film Festival Uzbekistan, 2011
Kolkata Film Festival, 2011
Funchal International Film Festival, 2011 - Award: Best actress (Kristbjörg Kjeld).
Edduverðlaunin / Edda Awards, 2010 - Award: Actress of the Year in a Leading role (Kristbjörg Kjeld). Film Score of the Year (Hilmar Örn Hilmarsson). Set design of the Year (Árni Páll Jóhannesson). Nominated for Feature Film of the Year. Nomiated for Cinamatography of the Year (Ari Kristinsson). Nominated for Costume Design of the Year (Helga I. Stefánsdóttir). Nominated for Make-up Achievement of the Year (Fríða María Harðardóttir). Nominated for director of the Year.
Artfilmfest International Film Festival, 2010
Toronto International Film Festival, 2010
Filmfest Hamburg, 2010
Pusan International Film Festival, 2010
Mumbai Film Festival, 2010
Sao Paulo International Film Festival, 2010
Nordische Filmtage Lübeck, 2010
Sevilla International Film Festival, 2010
Wiesbadan Kino Film Festival, 2010
PÖFF - Tallin Black Night Film Festival, 2010
International Rome Film Festival, 2010
Scanorama European Film Forum, 2010
Cinema distribution
Iceland: Smárabíó, 2010
Iceland: Háskólabíó, 2010
Iceland: Borgarbíó Akureyri, 2010
Iceland: Laugarásbíó, 2010
Releases