---
Beowulf and Grendel
Beowulf & Grendel is a medieval adventure, part legendary fable, part horror-story. Based on the seminal 9th century Anglo-Saxon poem, Beowulf, it tells the blood-soaked tale of a Norse warrior's battle against a great and murderous troll, Grendel, who has laid siege to the kingdom of Hrothgar, the much respected king of the Danes.

Out of allegiance to Hrothgar, Beowulf leads a troop of warriors across the sea to rid a village of the marauding monster. The monster, Grendel, is not a creature of mythic powers, but one of flesh and blood - immense flesh and raging blood, driven by a vengeance from being wronged. Beowulf's willingness to kill on behalf of Hrothgar wavers when it becomes clear that the King is more responsible for the troll's rampages than was first apparent. And Beowulf's relationship with a provocative witch, Selma, creates further confusion. Swinging his sword at a stinking beast is no longer such a simple act.

The story – filmed in Iceland - plays out in a brutish Northern Europe where the reign of the many-gods is giving way to one - the southern invader, Christ. Beowulf is a man caught between sides in this great shift, his simple code transforming and falling apart before his eyes.
Where to watch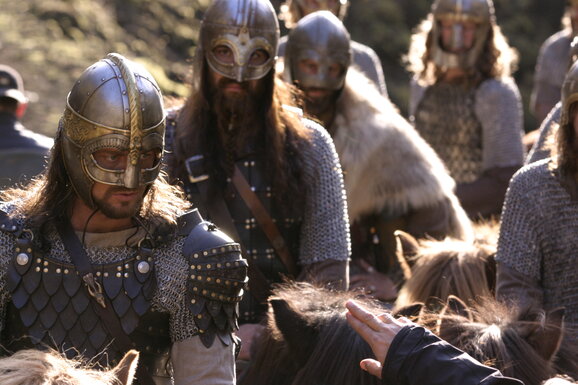 Crew
Directed by

Screenplay

Director of Photography

Editor

Producer

Co-Producer

Animal Trainer

Armorer

Art Direction

Assistant Director

Assistant Editor

Associate Producer

Camera Assistant

Casting by

Color Grader

Construction Manager

Costume Design

Dialogue Coach

Dialogue Editor

Double

Executive Producer

Foley

Hair Stylist

Key Grip

Line Producer

Loader

Location Manager

Make-Up

Music Contractor

Music Supervisor

Post-production Sound Assistant

Post-production Supervisor

Production Assistant

Production Designer

Production Manager

Props

Publicist

Re-recording Mixer

Script Supervisor

Second Unit Director

Set Decoration

Sound Editor

Sound Engineer

Special Effects

Special Make-up Effects

Steadicam Operator

Stills Photography

Stunt Coordinator

Stunts
About the film
Type

Feature Film

National Premiere Date

June 15, 2005, Toronto International Film Festival

Genre

Drama, Thriller

Length

104 min.

Language

English

Original Title

Bjólfskviða

International Title

Beowulf and Grendel

Production Year

2005

Production Countries

Iceland, England, United States, Canada, Australia

IMDB

Website

Icelandic Film Centre Grant

Yes

Production Format

35mm

Color

Yes

Sound

Dolby
Cast
Main Cast

Supporting Cast

Steinunn Ólína Þorsteinsdóttir

,

Tony Curran

,

Rory McCann

,

Hringur Ingvarsson

,

Spencer Wilding

,

Gunnar Eyjólfsson

,

Philip Whitchurch

,

Ronan Vibert

,

Martin Delaney

,

Mark Lewis

,

Elva Ósk Ólafsdóttir

,

Ólafur Darri Ólafsson

,

Sarah Polley

,

Eddie Marsan

,

Gísli Örn Garðarsson

,

Gunnar Hansson

,

Benedikt Clausen

,

Steindór Andersen

,

Matt John Evans

,

Jón Einarsson Gústafsson

,

Þröstur Leó Gunnarsson

,

Arnór Hákonarson

,

Þórður Helgi Guðjónsson

,

Kristín Hrönn Gunnarsdóttir

,

Daði Freyr Guðjónsson

,

Egill Ólafsson

,

Helgi Björnsson
Company Credits
Production Company

In Partnership With

Co-Production Company

Supported by
Festivals
2007

Academy of Science Fiction, Fantasy and Horror Films

2007

Canadian Society of Cinematographers Awards

2007

Genie Awards

- Award: Special Award for outstanding achievement in make-up

2006

Writers Guild of Canada

2005

Toronto International Film Festival
---
---