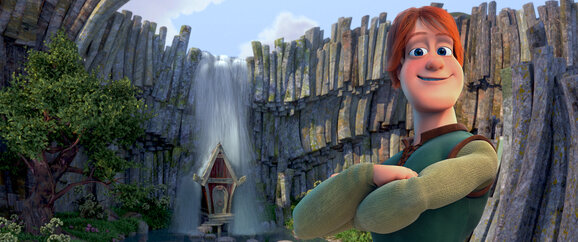 Legends of Valhalla - Thor
An over confident teen with a magical weapon and a handful of imperfect gods join forces against an evil queen and her army of giants.
Synopsis
The young blacksmith Thor lives happily with his single mother in a peaceful little village. The legend says he is the son of Odin, the King of the Gods. Therefore the fellow villagers believe that the terrifying Giants will never attack them. But they are terribly mistaken. A Giant army crushes the village and takes the villagers to Hel, the Queen of the Underworld. Thor is knocked out and left behind. He sets out to save his friends with the hammer Crusher - who claims to be a magical weapon!
About the film
Type: Animation
National Premiere Date: October 14, 2011, Háskólabíó, Smárabíó, Laugarásbíó, Borgarbíó
Genre: Family, Comedy
Language: English, Icelandic
Original Title: Hetjur Valhallar - Þór
International Title: Legends of Valhalla - Thor
Production Year: 2011
Production Countries: Iceland, Germany, Ireland
Website: www.legendsofvalhalla.com
Icelandic Film Centre Grant: Yes
Production Format: HD 3D
Aspect Ratio: 2.35:1
Color: Yes
Screening format and subtitles: DCP with; English sub. - Blu Ray with; English sub. -
Crew
Cast
Company Credits
Festivals
Nordic Film Fest, Rome, 2014
Icelandic Film Festival, Nuuk, 2014
Rimouski International Film Festival, Québec, Canada,, 2012
BFI London Film Festival, London, Britain,, 2012
Warsaw Film Festival, Warsaw, Polland,, 2012
REC Festival Internacional de Cinema de Tarragona, Tarragona, Spain, 2012
Oulu International Children's and Youth Film Festival, Oulu, Finland, 2012
Carton Movie, Lyon, France, 2012
BUFF Film Festival, Sweden, 2012
HAFF, Holland animation Film Festival, Utrecht, Holland, 2012
Beijing International Film Festival, China, 2012
ANIFILM, International Festival of Animated Films, Czech Republic, 2012
Stockholm International Film Festival Junior, Sweden, 2012
Seattle International Film Festival, USA, 2012
Anima Basauri, Bilao, Spain, 2012
ZLÍN International Film Festival for Children and Youth, Czech Republic, 2012
Cinema distribution
Iceland: Smárabíó, 2011
Iceland: Sambíóin Egilshöll, 2011
Iceland: Sambíóin Keflavík, 2011
Iceland: Háskólabíó, 2011
Iceland: Laugarásbíó, 2011
Iceland: Borgarbíó Akureyri, 2011