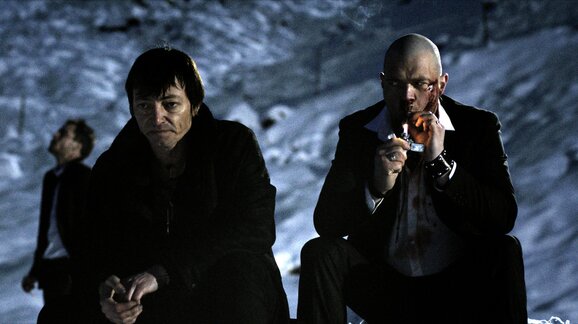 Black's Game
Black's Game
Black's Game
The last few years of the last millennium marked a transformational period for the Icelandic underworld. What had been a relatively innocent playground for petty criminals and "hobby pushers" progressed into the organized and violent industry that prevails today.
Synopsis
In the mid to late 90's, the Reykjavik crime and drug scene saw a drastic change from a relatively small and innocent world into a much more aggressive and violent one. The film tells the story of this change through the fictional gang of pushers that took control of Iceland's underworld. The film uses framework a handful of real events from the period; the Ecstasy revolution, two armed bank heists, a large scale insurance scam and the biggest drug-bust in the country's history. All these events shook Icelandic society profoundly, not least because of the high level of professionalism.
About the film
Type: Feature Film
National Premiere Date: March 2, 2012, Smárabíó
International Premiere Date: February 1, 2012, International Film Festival Rotterdam
Genre: Thriller, Detective
Length: 104 min.
Language: Icelandic
Original Title: Svartur á leik
International Title: Black's Game
Production Year: 2012
Production Countries: Iceland
IMDB: Black's Game
Icelandic Film Centre Grant: Yes
Based on a : Novel
Antecendent Title: Black's Game
Production Format: HD
Aspect Ratio: 2.35:1
Color: Yes
Sound: Dolby Digital
Screening format and subtitles: DCP with English sub.
Crew
Cast
Company Credits
Festivals
Iceland Sounds & Sagas, Turku, Finnlandi, 2015
Nordic Film Fest, Rome, 2014
Icelandic Film Festival, Nuuk, 2014
Gimli Film Festival, 2013
Filmfest Oslo, Norway, 2013
Victoria Film Festival, Canada, 2013
Guadalajara International Film Festival, Mexico, 2013
Edduverðlaunin / Edda Awards, 2013 - Award: Script of the year (Óskar Thór Axelsson). Actor of the year in a supporting role (Damon Younger). Actress of the year in a supporting role (María Birta Bjarnadóttir). Nominated for feature film of the year. Nominated for director of the year (Óskar Thór Axelsson). Nominated for actor of the year (Thor Kristjansson and Jóhannes Haukur Jóhannesson). Nominated for cinematography of the year (Bergsteinn Björgúlfsson). Nominated for editing of the year (Kristján Loðmfjörð. Nominated for special effects of the year (Haukur Karlsson). Nominated for set design of the year (Haukur Karlsson). Nominated for music of the year (Frank Hall). Nominated for sound design of the year (Huldar Freyr Arnarson). Nominated for costume design of the year (Margrét Einarsdóttir). Nominated for make-up achievement of ther year (Steinunn Þórðardóttir).
L'Etrange Festival de Paris, France, 2012
Helsinki International Film Festival, Finland, 2012
Lowlands Festival, Holland, 2012
Fantasia Film Festival, Canada, 2012
International Film Festival Rotterdam, 2012 - Award: Nominated for The Tiger Awards.
Berlin International Film Festival, Market Screenings, 2012
Göteborg International Film Festival, 2012
Stockholm International Film Festival, 2012
Hong Kong International Film Festival, 2012
Crossing Europe Filmfestival, 2012
Edinburgh International Film Festival, 2012
Filmfest München., 2012
Warsaw International Film Festival, Warsaw, Polland,, 2012
Chicago International Film Festiva, Chicago, USA,, 2012
CPH PIX, Copenhagen, Denmark, 2012
Kaohsiung Film Festival, Kaohsiung, Taiwan, 2012
Istanbul Autumn Film Week, Istanbul, Turkey, 2012
Saint Petersburg Internatiional Film Festival, Saint Petersburg, Russia, 2012
REC Festival Internacional de Cinema de Tarragona, Tarragona, Spain, 2012
Plus Camerimage, International Film Festival of the Art of the Cinematography, Bydgoszcz, Polland, 2012
SUBTITLE European Film Festival, Icelandic New Wave, Ireland, 2012