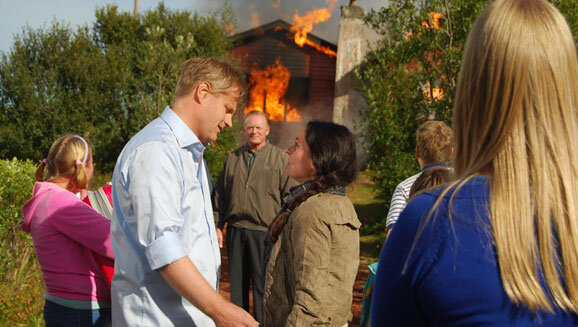 Our Own Oslo
Our Own Oslo
Our Own Oslo
Harald, whose life is over-controlled, has a romantic weekend in Oslo with Vilborg, whose life is out of control. They meet back in Iceland for a holiday that changes both their lives.
Synopsis
The comedy Our Own Oslo is an everyday love story. We follow the strained courtship of the wildly differing Harald, forty year old engineer, and Vilborg, an unemployed single mother. They are both tangled up in their own pasts and their attempts at love end in disaster. The humor in the movie is often black and firmly tied to the commonplace, but the compassion lies with the main characters who are trying their best.

The beautiful Icelandic countryside is the opposite of the common drone of Reykjavík city, the lover's troubled, awkward courtship is the opposite of the magical world of Oslo, where the two met while traveling, in a sense on leave from their normal lives.

Harald and Vilborg are normal people we all know. They have their strengths and weaknesses. They make some questionable decisions, are often unlucky and clumsy at communication, but like the rest of us they are driven on by the simple quest for a better life, companionship, love and happiness.
About the film
Type: Feature Film
National Premiere Date: March 4, 2011, Smárabíó
Genre: Comedy, Drama
Length: 94 min.
Language: Icelandic
Original Title: Okkar eigin Osló
International Title: Our Own Oslo
Production Year: 2011
Production Countries: Iceland, Norway, United Kingdom
IMDB: Our Own Oslo
Icelandic Film Centre Grant: Yes
Production Format: RED
Aspect Ratio: 1.85:1
Color: Yes
Screening format and subtitles: DCP with; English sub.
Crew
Cast
Company Credits
Festivals
Scandinavia House New York, USA, 2013
4 Steps into the Great North - Icelandic Days, Rome, Italy, 2012
Cannes Film Festival, Market Screenings, 2011
Television distribution
Cinema distribution
Iceland: Háskólabíó, 2011
Iceland: Smárabíó, 2011
Iceland: Borgarbíó Akureyri, 2011
Iceland: Laugarásbíó, 2011
Iceland: Bíó Paradís, 2011