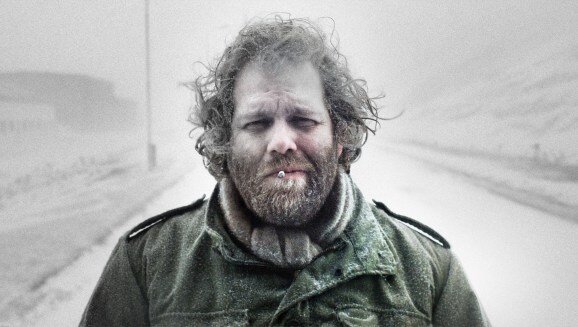 Rokland
Böddi is a small town rebel who despises the materialistic society he has been born into. He loses his job as a teacher at the local high school. On his notorious blog site, he alienates himself by viciously satirizing everyone around him and effectively makes himself an outlaw in the community, where nothing will change. So he heads off to the city on horseback, with a gun in his pocket to start a revolution.
Synopsis
When Böddi returns to his home village, in the North of Iceland, after 10 years of academic life in Germany he sets out to change the mindset of the local people. Through his blog he preaches highbrow ideals mixed with Viking Era romanticism which both amuses and confuses the locals. The students he teaches at the local high school think he's crazy and finally Böddi gets fired. The girl he is in love with rejects him and the one he's using as a distraction ends up using him. Being a man of ideals, Böddi continues his poetic crusade but with limited success. When it finally dawns on him that nothing will ever change in the village, he gets on his sturdy horse, Nietzsche, and rides south, to the big city of Reykjavík. He's got a gun in his pocket and noble ideas for the people. He's ready for his revolution. And this revolution is quite real.
About the film
Type: Feature Film
National Premiere Date: January 14, 2011, Sambíó
Genre: Drama, Comedy
Length: 98 min.
Language: Icelandic
Original Title: Rokland
International Title: Rokland
Production Year: 2011
Production Countries: Iceland
IMDB: Rokland
Website: www.rokland.is
Icelandic Film Centre Grant: Yes
Based on a : Novel
Antecendent Title: Stormland
Production Format: RED
Aspect Ratio: 2.35:1
Color: Yes
Sound: Dolby Digital
Screening format and subtitles: DCP with English subtitles
Crew
Cast
Company Credits
Festivals
Blue Sea Film Festival, Rauma, Finnlandi, 2015
Icelandic Films, Copenhagen, Denmark and Aarhus, Denmark, 2013
Leeds International Film Festival, Leeds, Britain,, 2012
Pune International Film Festival, PIFF, Maharashtra, India, 2012
Cinequest Film Festival, San Jose, California, 2012
Moscow Internotinal Film Festival, Moscow, 2012
Edduverðlaunin / Edda Awards, 2011 - Award: Actor of the Year in a Leading Role (Ólafur Darri Ólafsson). Actress of the Year in a Supporting Role (Elma Lísa Gunnarsdóttir). Nominated for Cinematography of the Year (Philip Robertsson). Nominated for Editor of the Year (Valdís Óskarsdóttir).
Cinema distribution
Iceland: Sambíóin Álfabakka, 2011
Iceland: Sambíóin Egilshöll, 2011
Iceland: Sambíóin Akureyri, 2011
Iceland: Bíó Paradís, 2011