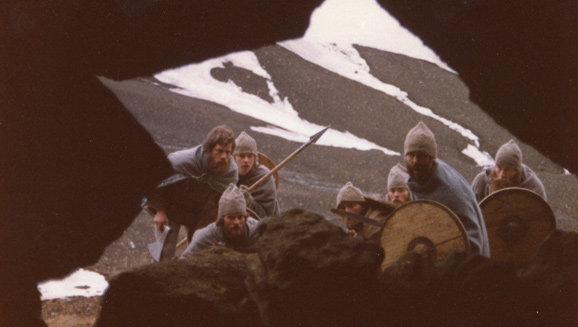 Outlaw: The Saga of Gísli Súrsson, The
Outlaw: The Saga of Gísli Súrsson, The
Outlaw: The Saga of Gísli Súrsson, The
The Outlaw is based on the medieval Icelandic Saga of Gísli, still popular today for its gripping story and swift action.
Synopsis
Gísli Súrsson's sworn brother is murdered and Gísli believes the murderer to have been Thorgrím the Chieftain, who is married to Gísli's sister. So he kills his brother-in-law; and in the wake of these deaths follows a complicated chess match of killings and countermoves.
About the film
Type: Feature Film
National Premiere Date: October 7, 1981, Austubæjarbíó
Genre: Drama, Thriller
Length: 100 min.
Original Title: Útlaginn
International Title: Outlaw: The Saga of Gísli Súrsson, The
Production Year: 1981
Icelandic Film Centre Grant: Yes
Based on a : Novel
Production Format: 35mm
Aspect Ratio: 1.66:1
Color: Yes
Sound: Dolby Stereo
Screening format and subtitles: No usable print available. -
Crew
Cast
Company Credits
Festivals
Filmfest Hamburg, Icelandic retrospective, 2011
Summer Film School, 2010
Academic Awards, 1982 - Award: Iceland´s Entry for Best Foreign language Film.
Television distribution
Releases
Bergvík, 2005 - DVD
Bergvík, 1999 - VHS