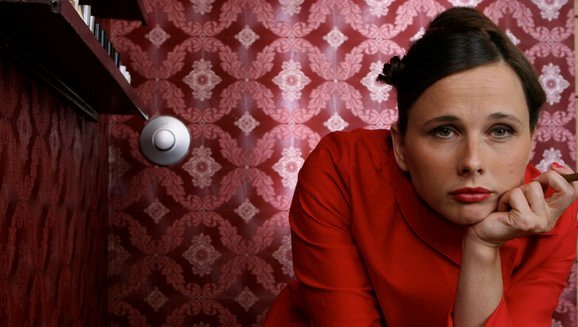 Anna
A rare syndrome keeps Anna in a world of isolation. Desperate for human contact, she attempts to break free from the shackles of her uncontrollable body with surprising results.
Synopsis
Anna has carefully laid a coffee table for two. Sitting at the table, checking if all is ready, she realizes that she has no sugar. Her excitement to invite her neighbour Adam over turns into a concern; she needs to go to the grocery store. Her concern is due to the fact that she has a serious tourette's syndrome; she imitates other people's movements. On her way to the grocery store the tourette's gradually takes control of her body. Anna manages to buy the sugar though, but back in her home, she is messy and tired. She cannot invite Adam over, once again she has failed. Determined to end her miserable, lonely life, she steps on to the balcony rail with the intention to jump. Standing at the other end of the balcony, Adam enjoys the view. He sees Anna and makes contact with her. He then cleverly saves her life. They laugh.
About the film
Type: Short Film
National Premiere Date: January 21, 2007
Genre: Drama
Length: 13 min. 34 sec.
Language: Icelandic
Original Title: Anna
International Title: Anna
Production Year: 2007
Production Countries: Iceland
IMDB: Anna
Icelandic Film Centre Grant: Yes
Production Format: 35mm
Aspect Ratio: 16:9
Color: Yes
Sound: Dolby Digital
Crew
Cast
Company Credits
Festivals
Austin Nordic Film Festival, Texas, U.S.A., 2011
Tallin Black's Nights Festival, Finland, 2011
Kratkofil Int. Short Film Festival, Banja Luka, Bosnia-Herzegovina, 2010
Festival du Film Insulaire, Sri Lanka, 2009
Reykjavik International Film Festival, 2007
CFC Worldwide Short Film Festival, Toronto, Canada, 2007
Expression en Corto International Film Festival, Mexico, 2007
Nordisk Panorama Film Festival, 2007 - Award: In competition.
Stockholm International Film Festival, Sweden, 2007
Karlovy Vary International Film Festival, Prague, 2007
Edduverðlaunin / Edda Awards, 2007 - Award: Nominated for Short Film of the Year.