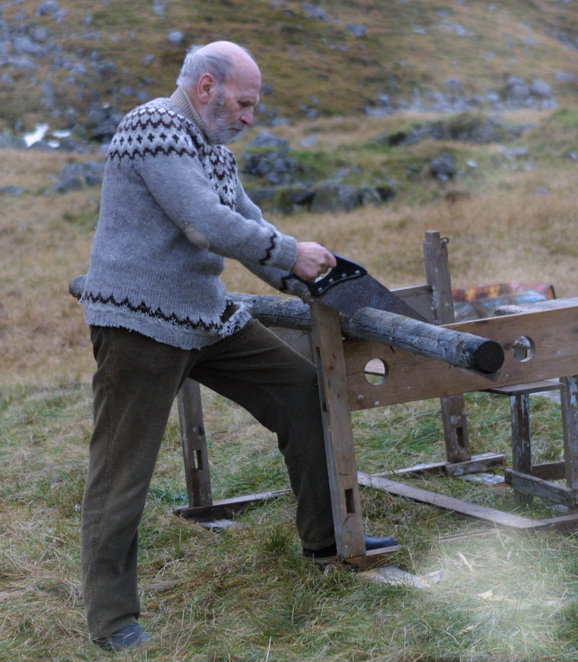 Last Farm, The
Last Farm, The
Last Farm, The
The stage is a remote valley and all the farms except one have been abandoned.
Synopsis
An old man lives with his wife on an isolated farmstead along the Icelandic coastline. His whole life spent there, raising his family and tending his land, he has no wish to give it up and move to the comfortable retirement home that his children have set up for him. However as preparations are made around him, he makes his own plans.
About the film
Type: Short Film
National Premiere Date: October 10, 2004
Genre: Drama
Length: 17 min. 9 sec.
Language: Icelandic
Original Title: Síðasti bærinn
International Title: Last Farm, The
Production Year: 2004
Production Countries: Iceland
IMDB: Last Farm, The
Website: http://zikzak.is/the-last-farm/
Icelandic Film Centre Grant: Yes
Production Format: 35mm
Aspect Ratio: 1.85:1
Color: Yes
Sound: Dolby Digital
Screening format and subtitles: SP Betacam w/English subtitles.
Crew
Cast
Company Credits
Festivals
Nordisk Panorama - Isländskt Retrospektiv, Malmö, 2015
Tampere Film Festival, 2015
Festival Tous Courts, Frakklandi, 2015
Helsinki International Film Festival - Love & Anarchy, 2014
Interfilm, International Short Film Festival, Berlin, Germany,, 2012
Australian Cinémathéque, Queensland, Australia, 2012
Minimalen Short Film Festival, Norway, 2012
L´Air Islande, Paris, 2011
Cinessone Festival du Cinema Europeen En Essonne, 2011
Regensburger Kurzfilmwoche, 2010
Filmfest Dresden, 2010
Brest European Short Film Festival, 2010
Nordatlantens Brygge Biodage, 2009
Kratkofil Short Film Festival, 2009
Scandinavian House, 2009
Nordisk Panorama, 2009
Alcine Film Festival, 2009
Nordic Lights Film Festival, 2009
Rehoboth Beach Independent Film Festival, 2008 - Award: Second Place
My Europe Film Festival, 2007 - Award: Audience Award
Academy Awards, 2006 - Award: Nominated for Best Live Action Short Film.
Magma Filmfestival, 2006 - Award: Best Narrative Short Film.
THE CINEMA CORTO IN BRA INTERNATIONAL FESTIVAL, 2006 - Award: The Jurys special mention.
Filmfest Dresden, 2006 - Award: ARTE Short Film Prize.
Filmfest Dresden, 2006 - Award: Golden Horse Man Youth Oscar.
The Festival de Cinema e Vídeo Jovem de Espinho, 2006 - Award: Prémio Melhor Final.
The MUNICH INTERNATIONAL SHORT FILM FESTIVAL, 2006 - Award: First Prize.
Minimalen Short Film Festival in Trondheim, 2006 - Award: Internatnional Award.
Durango Independent Film Festival, 2006 - Award: Best Live Action Short.
MoMA NY, 2006
10th International & 22nd National Short Film Festival of the Iranian Young Cinema Society, 2005 - Award: Best Film of Spiritual Competition.
9th International Short Film Festival Winterthur Schweiz, 2005 - Award: Audience-award.
Honorary Distinction- Drama International Short Film Festival, 2005
São Paulo International Short Film Festival, 2005 - Award: The audience's choice.
Shortshorts Filmfestival Tokyo, 2005 - Award: Jury´s special mention.
Huesca Film festival, 2005 - Award: The Jury of the Critics- Special mention.
Huesca Film festival, 2005 - Award: Best film.
Kiev International Film Festival Molodist, 2004 - Award: Best shortfilm.
Nordisk Panorama, 2004 - Award: Best shortfilm.
Edduverðlaunin / Edda Awards, 2004 - Award: Shot Film of the Year. Nominated for Actor of the Year in a Leading Role (Jón Sigurbjörnsson).
Fipresci Jury Diploma, 2004