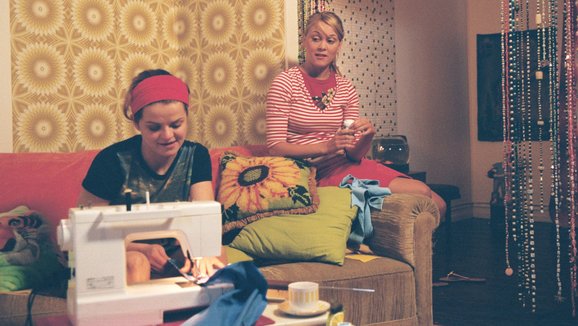 Dis
Dís (23) is still to decide what to do with her life. Obsessed by the thought of being "abnormally normal", a mere photocopy of a long lost original, she wanders from one odd job to another and tries out various courses at the University. A guiding light comes her way from an unexpected direction.
Synopsis
Dís is a 23 year old girl living in Reykjavik. She´s smart, funny, charming, outgoing and likeable. Nevertheless, she's troubled by the fact that she doesn´t quite know what to do with her life and how she compares to others. Other people seem so focused and know where they´re heading!

The story is set in the summer of 2000, when Dís has a summer job as a receptionist at Hótel Borg, a hotel in the heart of Reykjavik. Her plans for the autumn are to give the University of Iceland a third try, this time in the anthropology department (she had earlier checked out comparative literature and psychology). At Hótel Borg Dís makes friends with Gaui, an eccentric man who lives at the hotel and has an admiring fixation on Vigdís Finnbogadóttir, Iceland's former president of 16 years and the world's first elected female head-of-state.

Dís also gets acquainted with Jón Ágúst, a hotel chef, who charms her with flowers and chest hair, but nevertheless seems "too" perfect. One of the interesting foreigners she meets at work is Jamie Kooley, a superwoman/photographer from New York City. Dís gets an opportunity to help Kooley out and together they spend a weekend on a photo shoot in the dramatic landscape of rural Iceland. Before she leaves, Kooley offers Dís a permanent job as her assistant. The "lost" Dís is thrilled. The offer seems the perfect solution to her existential crisis and she starts preparing to move to New York.

Dís rents a flat in downtown Reykjavik. Her flat mate is her best friend Blaer, a free spirit who works at a multicultural center. Blaer is also active in an amateur theater group and is constantly occupied with her many other hobbies. Blaer dates two guys during the summer who happen to be identical twins! Blaer and Dís are inseparable and share a strange and sometimes outrageous sense of humor, which includes philosophical ponderings on their favorite TV show – Dallas – and an interest in the "not so complicated" postmodern state of contemporary life. Dís has another group of friends who to her represent the kind of a bourgeois lifestyle that doesn't really appeal to her. Magga, the reigning queen of that group, gets married during the summer and she wants the wedding no less than perfect!

Through the course of the story, Dís is involved with two men romantically. Besides Jón Ágúst, there is Lalli whom Dís meets through Jamie Kooley. Dís and Lalli are involved in a passionate affair which reaches its climax during an earthquake that rattles Reykjavik on Iceland's Independence Day. Towards the end of the summer, Jamie Kooley retracts her job offer and Dís is devastated, feeling more lost than ever. Then Gaui dies, and she pays him her final respects by asking former president Vigdís Finnbogadottir to attend his funeral.
Much to Dís´s surprise, Gaui leaves her an old Leica camera which symbolizes a new opportunity for her. Blaer finds out that she is pregnant. The question is: who´s the father?

At the end we see a determined and happier Dís who has the future ahead of her and doesn't seem afraid to pursue what it might have in store for her.
About the film
Type: Feature Film
National Premiere Date: September 3, 2004
Genre: Comedy
Length: 82 min.
Language: Icelandic
Original Title: Dís
International Title: Dis
Production Year: 2004
Production Countries: Iceland
IMDB: Dis
Website: http://blueeyes.is/Films/Dis/
Icelandic Film Centre Grant: Yes
Based on a : Novel
Production Format: DVCAM
Aspect Ratio: 1.66:1
Color: Yes
Sound: Dolby
Screening format and subtitles: 35mm film without sub. 35mm film with English sub. - 35mm film with Icelandic sub. -
Crew
Cast
Company Credits
Festivals
Shanghai International Film Festival, 2005
Haugesund Norwegian Int. Film Festival, 2005
Edduverðlaunin / Edda Awards, 2004 - Award: Nominated for Feature Film of the Year. Nominated for Actress of the Year in a Supporting Role (llmur Kristjánsdóttir & Thórunn Erna Clausen).
Releases
Skífan ehf., 2004 - DVD
Skífan ehf., 2004 - VHS