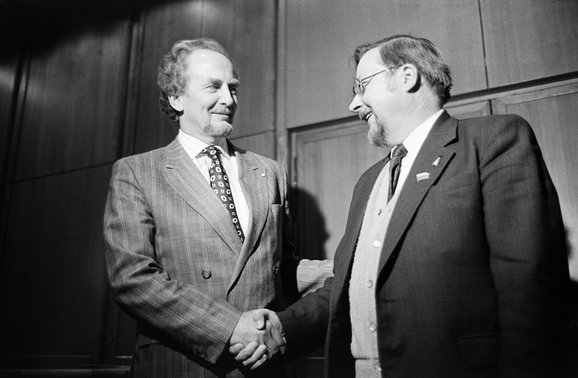 Those who Dare
Those who Dare
Those who Dare
When Mikhail Gorbachev rose to power in 1985, his reforms sparked an independence movement in Estonia, Latvia and Lithuania. But when Baltic cries for help went unheeded, two small nations - Iceland and Denmark - stepped forward, due to the personal connections of their respective foreign ministers.
Synopsis
THOSE WHO DARE outlines the Baltic nations' (Estonia, Latvia and Lithuania's) struggle for the restoration of their independence, from 1986-1991, Gorbachev's perestroika paving the way. It recaptures the dramatic course of events in the Baltic capitals of Vilnius, Riga and Tallinn in January 1991 when the Soviet military attempted to brutally suppress the independence movements. At that moment, Jón Baldvin Hannibalsson, the minister of foreign affairs of Iceland, was the only western foreign minister to travel to the Baltic capitals to show his support, thus inscribing Iceland in golden letters in the minds of the Baltic people.

Hannibalsson's personal connections and interest in the USSR were the driving force behind Iceland's support for the freedom of the Baltic states. From 1989 onwards, he, along with Danish Foreign Minister Uffe Elleman Jensen worked hard to support the Baltic nations' struggle at the UN, in the European Council, within the Nordic Council, within NATO, at the North Atlantic Council meetings and elsewhere in the international arena. During this process, both Hannibalsson and Jensen understood that little interest was shown by their colleagues for this corner of the world, even thought they had been illegally annexed during the Second World War.

The superpowers had other interests, a war in Iraq, the unification of Germany - and did not see fit to rock Gorbachev's boat.
In August 1991, following the coup d'etat in Moscow Iceland became the first country to recognize the Baltic countries. In December, The Soviet Union formally ceased to exist.
About the film
Type: Documentary
National Premiere Date: April 1, 2015, Bíó Paradís
Length: 63 min.
Language: Icelandic, English, Latvian, Danish, Russian
Original Title: Þeir sem þora
International Title: Those who Dare
Production Year: 2015
Production Countries: Iceland
Website: www.axfilms.is
Icelandic Film Centre Grant: Yes
Production Format: HD
Aspect Ratio: 16:9
Color: Yes
Sound: Stereo
Screening format and subtitles: DCP
Crew
Company Credits
Festivals
Mirgorod Film Festival, Poltava, Úkraína, 2016
EstDocs, Toronto, Kanada, 2015 - Award: Viewers choice for best film.
Nordische Filmtage Lübeck, 2015 - Award: Honorable mention.