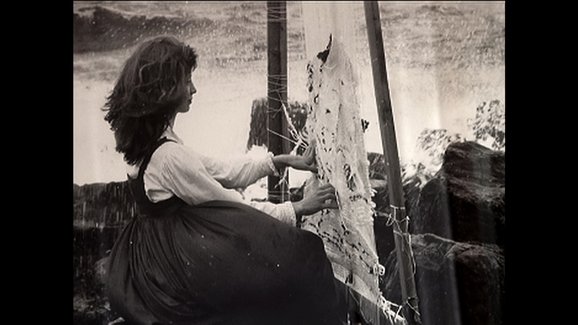 Salóme
A daughter returns to Iceland to film her mother, who has been battling illness. The mother is reluctant to participate, but the daughter is persistent. A film about life and art, understandings and misunderstandings, and the relationship between two artists - the subject and the filmmaker.
Synopsis
Art was an important factor of my childhood, where I would spend time watching mama, through the threads. Today I am back in Iceland, watching her again - this time through the camera. We have not lived under the same roof since I was a teenager.

I am 35, without children and a strong desire to make a film about her. Mum is not interested in being filmed.

The film does not only deal with a mother - daughter relationship, but also a filmmaker and a subject with their own will.
About the film
Type: Documentary
National Premiere Date: November 7, 2014, Bíó Paradís
International Premiere Date: September 21, 2014, Nordisk Panorama
Length: 58 min.
Language: Icelandic
Original Title: Salóme
International Title: Salóme
Production Year: 2014
Production Countries: Iceland, Sweden, Spain
Website: http://skarkali.net/salome.html
Icelandic Film Centre Grant: Yes
Production Format: DVCAM
Aspect Ratio: 4:3
Color: Yes
Sound: Stereo
Screening format and subtitles: HDCAM, PAL, Blu-ray, DVD, DigiBeta
Crew
Company Credits
Festivals
Edduverðlaunin / Edda Awards, 2015 - Award: Nominated for Documentary of the year.
Docpoint - Helsinki Documentary Film Festival, 2015
Tartu World Film Festival, 2015
Millenium International Documentary Film Festival, Brussel, 2015
L'Europe autour de l'Europe, París, 2015
Balkankult Foundation, Belgrad, 2015
Play-Doc International Documentary Film Festival, Tui, Spáni, 2015
Sczecin European Film Festival, 2014 - Award: Most moving film.
Festival Internacional de Cine de Cali, 2014
IFFEST Document.Art., 2014
Nordische Filmtage Lübeck, 2014
L'Alternativa Festival de Cinema Independent de Barcelona, 2014
Skjaldborg, 2014 - Award: Best film.
Nordisk Panorama, 2014 - Award: Best Nordic Documentary.