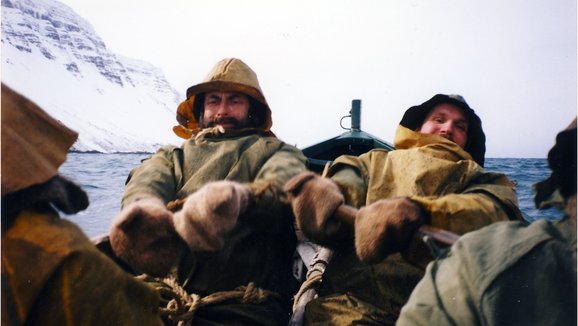 Give Us This Day
Give Us This Day
Give Us This Day
The film describes a day in the life and work of fishermen in an open rowing-boat, before the dawn of the age of mechanization.
Synopsis
This one winter's day encapsulates a thousand years fishing and seamanship in Iceland. We gain an insight into an inner and outer world, where manual labour, man's beliefs in nature, Christianity, superstition and even magic are interwoven.

We are questioned if we could imagine how this world of the rowing boat crew, wich reflects the ancient class-divided society, really looked like? How did they percive the nature around them, their God in this nature, it's unstable weather conditions, it's harshness when they go to sea to harvest its riches to make it possible for themselves as well as their nation to keep on living on the edge of the habitable world? Here we are face to face with the very foundation of fishing nation's culture.
About the film
Type: Documentary
Length: 58 min. 43 sec.
Language: Icelandic
Original Title: Íslands þúsund ár
International Title: Give Us This Day
Production Year: 1997
Production Countries: Iceland
Icelandic Film Centre Grant: Yes
Crew
Company Credits
Festivals
Menningarverðlaun DV, 1998