---
Under the Glacier
Our hero is Umbi (an acronym for emissary of the bishop), sent by him to undertake an important investigation at Snæfell-glacier. In particular he is to look into the conduct and behavior of Jón Prímus, the old pastor at Snæfell. Fantastic rumors are rife: amongst other things it is said that a corpse is lodged in the glacier! Armed with his tape recorder and notebook, Umbi embarks upon his mission. He tries to question the weird locals, a weird lot, but gets evasive answers. Slowly he is dragged into a quagmire of strange happenings and his efforts to understand only make him confused. If at the beginning he is a chipper, a mere device, by the end of the story he is inextricably involved, a committed participant in the bizarre events.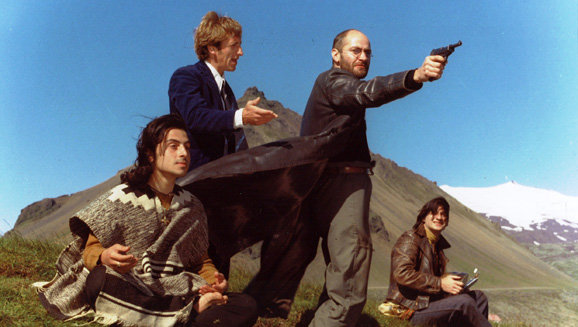 Crew
Directed by

Screenplay

Director of Photography

Editor

Music Composer

Producer

Assistant Director

Assistant Editor

Based on a Story by

Boom Operator

Camera Assistant

Color Grader

Costume Design

Hair Stylist

Make-Up

Production Designer

Production Manager

Props

Re-recording Mixer

Scenic Artist

Script Supervisor

Singer

Sound Editor

Sound Engineer
About the film
Type

Feature Film

National Premiere Date

February 25, 1989

Genre

Drama, Drama

Length

91 min.

Language

Icelandic

Original Title

Kristnihald undir jökli

International Title

Under the Glacier

Production Year

1989

Production Countries

Iceland

IMDB

Icelandic Film Centre Grant

Yes

Based on a

Novel

Production Format

35mm

Aspect Ratio

1.66:1

Color

Yes

Sound

Dolby Stereo SR

Screening format and subtitles

35mm film with English sub. - DCP with English sub.
Cast
Main Cast

Supporting Cast

Kristbjörg Kjeld

,

Gísli Halldórsson

,

Helgi Skúlason

,

Þórhallur Sigurðsson (Laddi)

,

Rúrik Haraldsson

,

Sólveig Halldórsdóttir

,

Guðrún Stephensen

,

Gestur Einar Jónasson

,

Egill Ólafsson

,

Panos Coutras

,

Valgeir Skagfjörð

,

Ívar Webster

,

Þorsteinn Hannesson

,

Árni Bergmann

,

Gísli Alfreðsson

,

Gylfi Pálsson

,

Ágúst Guðmundsson
Company Credits
Production Company

Supported by
Festivals
2019

TIFF - Wayward Heroes: A Survey of Modern Icelandic Cinema

????

Academy Awards
Television distribution
Iceland

RÚV, 1991

Iceland

RÚV, 1992
Releases
Bergvík, 2000 - mynddiskur (DVD)
Bergvík, 1994 - myndsnælda
Námsgagnastofnun, 1989 - myndband
---