---
Children of Nature
An old man who lives by himself decides to give up farming and move to the city, where he has a difficult time settling in and ends up in an old people's home. There he meets an old flame who dreams of being buried on the farm where she grew up, which has now been deserted for years. One night they flee together in search of adventure.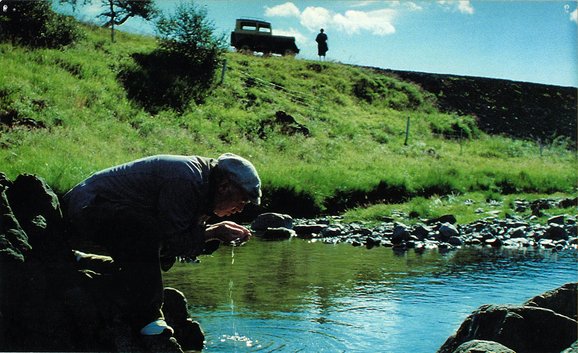 Crew
Directed by

Screenplay

Director of Photography

Editor

Music Composer

Producer

Assistant Director

Assistant Editor

Boom Operator

Camera Assistant

Costume Design

Executive Producer

Line Producer

Make-Up

Music Arranger

Music Performers

Production Designer

Script Supervisor

Sound
About the film
Type

Feature Film

National Premiere Date

August 1, 1991, Stjörnubíó

Genre

Drama

Length

85 min.

Language

Icelandic

Original Title

Börn náttúrunnar

International Title

Children of Nature

Production Year

1991

Production Countries

Iceland

IMDB

Icelandic Film Centre Grant

Yes

Production Format

35mm

Aspect Ratio

1.66:1

Color

Yes

Sound

Dolby

Screening format and subtitles

35mm film with English sub. - Betacam SP with English sub. - DCP in production.
Cast
Main Cast

Supporting Cast

Egill Ólafsson

,

Tinna Gunnlaugsdóttir

,

Rúrik Haraldsson

,

Bruno Ganz

,

Baldvin Halldórsson

,

Margrét Ólafsdóttir

,

Magnús Ólafsson

,

Bryndís Petra Bragadóttir

,

Jóhann Sigurðarson

,

Valgerður Dan

,

Hallmar Sigurðsson

,

Þórarinn Óskar Þórarinsson

,

Sigríður Hagalín Björnsdóttir

,

Hallur Hallsson

,

Kristinn Ágúst Friðfinnsson

,

Eiríkur Guðmundsson

,

Guðbrandur Gíslason

,

Hafliði Magnússon

,

Jón Ólafsson

,

Björn Karlsson

,

Völundur Óskarsson

,

Karl Jónatansson

,

Jóhannes Arason

,

Jörundur Hilmarsson

,

Rögnvaldur Finnbogason
Company Credits
Production Company

Co-Production Company

Supported by
Festivals
2016

Ultima Thule, Pólland

2016

Islandske filmdage 2016, Kaupmannahöfn

2014

Pula Film Festival

2014

Salisbury International Arts Festival

2012

Two Riversides Film and Art Festival, Polland

2012

Festival Air d'Islande, France

2011

Fünf-Seen-Filmfestival, Gilching, Germany.

2011

Febiofest, Prague

2010

Icelandic Film Days, Innspruck

2010

Artfilmfest International Film Festival

2010

Yerevan International Film Festival

2010

Summer Film School

2009

Festival Intertational Mar del Plata

2009

Scandinavian House

2009

Plus Camerimage Film Festival

1993

Cologne Int. Film Festival

- Award: The Public Prize

1993

Stuttgart Natur Film Festival

- Award: Grand Prix

1993

Yubari Int. Film Festival, Japan

- Award: Grand Prix

1992

DV

- Award: Cultural Award

1992

Nordic Film Festival in Rouen

- Award: Public Prize of A.C.O.R (Association of cinemas)

1992

Film Festival in Bergamo

- Award: The Bronze Plate and The Prize of best Actor (Gísli Halldórsson)

1992

Academy Awards (Oscar)

- Award: Best Foreign Language Film Nomination.

1992

Mostra Int. del Film d'Autore, San Remo, Italy

- Award: Best Actor (Gísli Halldórsson), Audience Award - The Bronze Plate

1992

Int. Film Festival Troia

- Award: Silver Dolphin - Best Film, Best Actor (Gísli Halldórsson)

1991-1993

The 10th Nordic Film Festival

- Award: Best Scandinavian Film

1991

Montreal Film Festival

- Award: Best Artistic Contribution

1991

Lübeck Film Festival

- Award: The Scandinavian Film Institutions Prize

1991

Felix

- Award: European Film Composer of the Year

1991

Felix

- Award: Nomination for Best Actress (Sigríður Hagalín)

1991

Festival International Henri Langlois de Tours

- Award: Best Actor (Gísli Halldórsson)

????

Northern Light Film Festival

- Award: The Carl Dreyer Prize
Television distribution
Iceland

RÚV, 1995

Iceland

RÚV, 1996

Iceland

RÚV, 2000
Releases
Sena, 2008 - DVD
SAM myndir, 2004 - DVD
Íslenska kvikmyndasamsteypan, 1993 - VHS
Íslenska kvikmyndasamsteypan, 1991 - VHS
---