Volcano
Hannes is estranged from his family, hardly has any friends and the relationship to his wife has faded. Through drastic events, Hannes realizes that he has to adjust his life in order to help someone he loves. Volcano is a coming of age love story of a 67-year-old man and about dealing with the choices of the past and the difficulties of the present in order to embrace the future.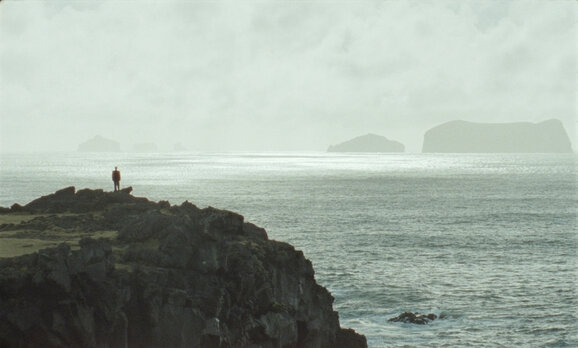 About the film
Type

Feature Film

National Premiere Date

September 30, 2011, Háskólabíó

International Premiere Date

May 13, 2011, Director´s Fortnight, Cannes Film Festival

Genre

Drama

Length

95 min.

Language

Icelandic

Original Title

Eldfjall

International Title

Volcano

Production Year

2011

Production Countries

Iceland, Denmark

IMDB

Website

Icelandic Film Centre Grant

Yes

Production Format

Super 16mm

Aspect Ratio

1.85:1

Color

Yes

Sound

Dolby Digital

Screening format and subtitles

DCP with English sub. DCP without sub 35mm film with English sub.
Crew
Directed by

Screenplay

Director of Photography

Editor

Music Composer

Producer

Advisor

Art Direction

Assistant Director

Assistant Editor

Associate Producer

Best Boy

Color Grader

Costume Design

Electrician

Executive Producer

Focus Puller

Foley

Gaffer

Graphic Design by

Key Grip

Laboratory

Line Producer

Loader

Location Manager

Make-Up

Post-production Supervisor

Production Assistant

Production Coordinator

Production Designer

Props

Re-recording Mixer

Script Supervisor

Sound Design

Sound Editor

Sound Engineer

Special Effects
Cast
Main Cast

Supporting Cast

Þorsteinn Bachmann

,

Elma Lísa Gunnarsdóttir

,

Ágúst Örn B. Wigum

,

Benedikt Erlingsson

,

Auður Drauma Bachmann

,

Jóhann Sigurðarson

,

Harald G. Haraldsson

,

Þröstur Leó Gunnarsson

,

Þór Hrafnsson Túliníus

,

Katla M. Þorgeirsdóttir

,

Björn Karlsson

,

Kristín Davíðsdóttir

,

Kristján Björnsson

,

Stefán Hallur Stefánsson

,

Vigdís Hrefna Pálsdóttir

,

Steingrímur Viljar Stefánsson

,

Úlfhildur Ragna Arnarsdóttir
Company Credits
Production Company

Supported by
Festivals
2016

Ultima Thule, ýmsir sýningarstaðir, Pólland

2015

Icelandic Film Festival, Noida og Chennai, Indlandi

2015

Icelandic Film Festival, Indlandi

2015

Culturescapes, Basel

2015

Chennai International Film Festival

2014

Avvantura Festival Film Forum Zadar

2014

Fest Espinho

2014

Nordic Showcase Sao Paulo

2014

Icelandic Film Festival, Nuuk

2013

Nordic Lights Film Festival (Nordic Heritage Museum), Seattle, USA

2013

Icelandic films, Copenhagen, Denmark and Aarhus, Denmark

2013

Guadalajara International Film Festival, Mexico

2012

Edduverðlaunin / Edda Awards

- Award: Feature Film of the Year. Director of the Year. Script of the Year. Actress of the Year (Margrét Helga Jóhannsdóttir). Actor of the Year (Theódór Júlíusson). Nominated for Actress of the Year in a Supporting Role (Elma Lísa Gunnarsdóttir). Nominated for Actor of the Year in a Supporting Role (Þorsteinn Bachmann). Nominated for Cinematography of the Year (Sophia Olsson). Nominated for Editor of the Year (Jacob Shulsinger). Nominated for Sound Design of the Year (Ingvar Lundberg, Kjartan Kjartansson). Nominated for Music of the Year (Kjartan Sveinsson). Nominated for Set Design of the Year (Haukur Karlsson). Nominated for Costume Design of the Year (Helga Rós V. Hannam). Nominated for Make-Up Achievement of the Year (Guðbjörg Huldís Kristinsdóttir).

2012

Festival Internacional de Cinema Jovem de Espinho

- Award: Best Film Award.

2012

Bradford International Film Festival

- Award: Best Film.

2012

Rehoboth Beach Independent Film Festival, Rehoboth Beach, Delaware, USA,

2012

Whitaker St. Louis International Film Festival, St. Louis, Missouri, USA,

2012

Zagreb Film Festival, Zagreb, Croatia

2012

OUFF Film Festival De Cine Internacional de Ourense, Ourense, Spain

2012

International Film Festival Fiji, Fiji, Melanesia

2012

Exposed Festival for First Films, Cologne, Germany

2012

Europe on Screen, Jakarta, Indonesia

2012

SUBTITLE European Film Festival, Icelandic New Wave, Ireland

2012

Academy Awards

- Award: The Icelandic entry for the best foreign language feature.

2012

Palm Springs International Film Festival, California, USA

2012

Scandinavian Film Festival L.A., California, USA

2012

Göteborg International Film Festival, Sweden

2012

Australian Cinémathéque, Queensland, Australia

2012

Hong Kong International Film Festival, China

2012

Rome Independent Film Festival, Rome, Italy

2012

Images from the Edge: Classic and Contemporary Films from Iceland, Lincoln Center, New York

2012

Maryland Film Festival, Baltimore, USA

2012

Seattle International Film Festival, USA

2012

Olhar de Cinema - Curitiba International Film Festival, Brasil

2012

Champs-Élysées Film Festival, Paris, France

2012

Gimli Film Festival, Manitoba, Canada

2012

Scottsdale Film Festival, USA

2011

Transilvania International Film Festival

- Award: Best Directing Award.

2011

Director´s Fortnight, Cannes Film Festival

2011

Cannes Film Festival

- Award: Nominated for the Camera d´Or.

2011

Karlovy Vary International Film Festival

2011

Filmfest Munich

2011

Era New Horizons International Film Festival, Poland

2011

Haugesund International Film Festival, Norway

2011

Toronto International Film Festival

2011

Riga International Film Festival "Arsenals"

2011

Athens International Film Festival

2011

Helsinki International Film Festival

2011

Eurasia International Film Festival

- Award: Best actor (Theodór Júlíusson).

2011

Reykjavík International Film Festival

- Award: The FIPRESCI-award. The Church of Iceland award.

2011

Chicago International Film Festival

- Award: The Silver Hugo award in the New Directors Competition.

2011

BFI London Film Festival

2011

Festival du Nouveau Cinema

- Award: Awarded the Golden Wolf - the first prize in the international selection. The AQCC critics' awards.

2011

Haifa International Film Festival

2011

Hamptons International Film Festival

2011

Bergen International Film Festival

2011

Viennale - Vienna International Film Festival

2011

Sao Paulo International Film Festival

- Award: Best Actor (Theodór Júlíusson).

2011

Seminci - Valladolid International Film Festival

- Award: First prize in the Meeting Point category.

2011

Molodist Kyiv International Film Festival

2011

Nordische filmtage Lubeck

2011

Starz Denver Film Festival

- Award: The Krzyzstof Kieslowski award (the festivals first prize).

2011

Sevilla Festival de CineEuropeo

- Award: EFA - European Film Selection Competition.

2011

Noordelijk Film Festival

2011

Scanorama European Film Forum

2011

Cinessone Festival du Cinema Europeen En Essonne

2011

Tallinn Black Nights Film Festival
Cinema distribution
Iceland

Háskólabíó, 2011

Iceland

Smárabíó, 2011

Iceland

Borgarbíó Akureyri, 2011

Iceland

Bíó Paradís, 2011
---