---
Cliff, The
A young man is badly hurt in mysterious accident that takes place at a remote construction site in the middle of the night. Helgi Marvinsson (35), a detective in the State Police, is called in to help the inexperienced local detective, Inga Aradóttir (30). She is a young and ambitions woman and she is not happy with Helgi's assignment to the case. But as they get to know each other, their feelings evolve and they grow closer.

At first glance, the case looks like a freak accident. An excavator has fallen over the edge of a cliff at a time when nobody was supposed to be working. The operator is found unconscious inside the machine and rushed to hospital. Environmentalists are fighting against the proposed power plant but the stakes are high in the small local community. The competition for contracting work is fierce and the landowners are expecting large sums of money in compensation from the government. But some of the locals believe that higher forces are at play, citing ancient legends surrounding the cliff on the construction site.

As the investigation progresses, secrets are unearthed and new information comes to light but somehow the case seems to get more and more complicated. The injured excavator operator unexpectedly dies in intensive care, an explosives expert is crushed under a rock at the construction site and people disappear. Through the process of investigating the case, Helgi is forced to confront his own personal demons. He has recently lost his son but has been suppressing his feelings and concentrating on his carrier. The case and his partnership with Inga help him deal with his loss and learn to grief.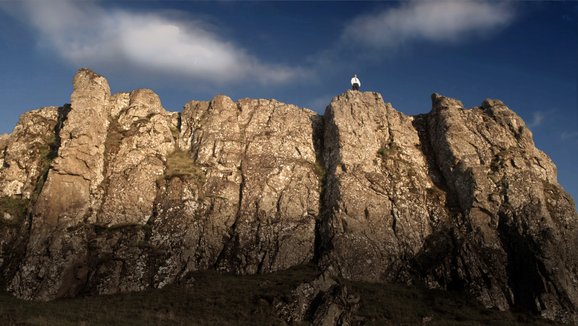 Crew
Directed by

Screenplay

Director of Photography

Editor

Music Composer

Producer

Co-Producer

Assistant Director

Assistant Editor

Based on an idea by

Costume Design

Costumer

Focus Puller

Gaffer

Hair Stylist

Key Grip

Line Producer

Make-Up

Production Assistant

Production Designer

Props

Script Supervisor

Sound Design
About the film
Type

TV Fiction

National Premiere Date

October 4, 2009

Genre

Drama, Thriller

Length

220 min.

Language

Icelandic

Original Title

Hamarinn

International Title

Cliff, The

Production Year

2009

Production Countries

Iceland

Premiere TV Channel

RÚV

Number of Episodes

4

IMDB

Website

Icelandic Film Centre Grant

Yes

Production Format

RED

Aspect Ratio

16:9

Color

Yes

Sound

Dolby Stereo SR
Cast
Main Cast

Supporting Cast

Rúnar Freyr Gíslason

,

Sveinn Ólafur Gunnarsson

,

Halldóra Geirharðsdóttir

,

Tinna Hrafnsdóttir

,

Herdís Þorvaldsdóttir

,

Elma Lísa Gunnarsdóttir

,

Jóhann Sigurðarson

,

Hilmar Jónsson

,

María Ellingsen

,

Þröstur Leó Gunnarsson

,

Baldur Trausti Hreinsson

,

Þórir Sæmundsson

,

Unnur Birna Jónsdóttir

,

Ari Kapríus Kristjánsson

,

Valur Guðmundsson

,

Arnmundur Ernst Backman

,

Björn Ingi Hilmarsson

,

Harpa Arnardóttir

,

Hera Hilmarsdóttir
Company Credits
Production Company

Supported by
---