---
Benjamin Dove
Benjamin Dove is a nostalgic film, a tale of modern knights, dreams and reality, life and death. It takes place in late summer and early autumn in a small neighbourhood of the kind found in any town or village in the world. Four 10-12 year old boys form an Order of Knights to fight injustice in their immediate surroundings. They are pure of heart so their mission is a just one - almost holy. In their carefree world their dreams and fantasies become reality.

But the boys' fantasies collapse into harsh reality when their friendship breaks up and one of them leaves the Order. In his misery, envy and vengefulness he forms a rival gang to fight his former friends, and things get out of hand. Petty squabbles turn to hatred and children's games to war.

Benjamin Dove is a film about growing up, the universal tale of events which destroy childhood innocence in one blow, leaving nothing behind. It is a mythical tale of the creation and loss of a private world. Like many myths, it ends in tragedy, but not without hope, because true friendship never dies. It lives in your memory and colors each day of your existence.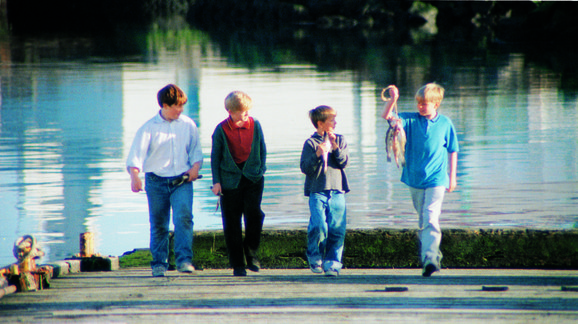 Crew
Directed by

Screenplay

Director of Photography

Editor

Music Composer

Producer

Animal Trainer

Art Direction

Assistant Director

Assistant Editor

Based on a novel by

Best Boy

Camera

Camera Assistant

Color Grader

Costume Design

Costumes Made by

Dolly Grip

Fight Master

Gaffer

Hair Stylist

Key Grip

Line Producer

Make-Up

Post-production Sound Assistant

Production Accountant

Production Manager

Props

Re-recording Mixer

Script Supervisor

Sound Design

Sound Editor

Sound Engineer

Special Effects

Stills Photography
About the film
Type

Feature Film

National Premiere Date

November 9, 1995, Stjörnubíó

Genre

Family, Drama

Length

91 min.

Language

Icelandic

Original Title

Benjamín dúfa

International Title

Benjamin Dove

Production Year

1995

Production Countries

Iceland, Sweden, Germany

IMDB

Icelandic Film Centre Grant

Yes

Based on a

Novel

Production Format

35mm

Aspect Ratio

1.85:1

Color

Yes

Sound

Dolby Stereo SR

Screening format and subtitles

Betacam SP with English sub.
Cast
Main Cast

Supporting Cast

Elva Ósk Ólafsdóttir

,

Guðmundur Haraldsson

,

Guðbjörg Thoroddsen

,

Pálmi Gestsson

,

Ólafía Hrönn Jónsdóttir

,

Edward Dickens

,

Ragnheiður Steindórsdóttir

,

Erlingur Snær Guðmundsson

,

Kjartan Ragnarsson

,

Arnar Einarsson

,

Arngunnur Ægisdóttir

,

Jóhann Sigurðarson

,

Hilmar Ólafsson

,

Þórir Sæmundsson

,

Matthías Matthíasson

,

Magnús Ólafsson

,

Guðlaug Jónsdóttir

,

Sigurveig Jónsdóttir

,

Sigrún Gylfadóttir

,

Hjálmar Hjálmarsson

,

Halldóra Björnsdóttir

,

Örlygur Eyþórsson

,

Theódór Júlíusson

,

Gísli Ingólfsson

,

Hæringur (Horse)

,

Patti (Cat)
Company Credits
Production Company

In Partnership With

Supported by

Sound
Festivals
2021

Oulo International Children's and Youth Film Festival

2014

Tokyo Northern Lights Festival

1998

Sprockets Toronto International Film Festival for Children, Canada

1998

Montréal International Children's Film Festival (FIFEM), Canada

1998

Amman, Jordan

1998

Singapore International Film Festival

1997

Palm Spring International Film Festival, USA

1997

International Film Festival, Brussels, Belgium

1997

Nordic. Child., Latvia

1997

Nordic Film Festival, Japan

1997

Film-Fest, Vaduz, Lichtenstein

1997

International Film Festival, Montevideo, Uruguay

1997

Chicago International Children Film Festival, USA

1997

Cinemagic, Northern Ireland

1997

Olympia International Film Festival for Children and Young People, Greece

1996

Nordische Filmtage, Lübeck, Germany

1996

Ourense Film Festival, Spain

1996

Film Festival Ragazzi Bellinzona, Switzerland

- Award: Awarded the 2. prize as best picture, "II Castello d'argento"

1996

Nordic Children's Film Festival, Copenhagen, Denmark

1996

2. Childrens Film Festival in Marl, Germany

- Award: 1. prize as best picture from the childrens jury and special mention (Lobenden Erwähnung) from the grown-up jury

1996

Oulu International Children's Film Festival, Finland

1996

Gothenburg, Sweden (Screening out of competition)

1996

Official Selection Children's Film Fest, Berlin, Germany

1996

BUFF, Malmö, Sweden - Opening Film

1996

Ale Kino, Poznan, Poland

1996

Minneapolis, USA

1996

Varna, Bulgaria

- Award: Grand prix of the International jury. Award of the Children Jury.

1996

Prague, Czech Republic (Screening out of competition)

1996

Harstad, Norway

1996

Giffoni, Italy

1996

Haugasund, Norway

1996

Riga, Latvia

1996

Umeå, Sweden

1996

Carrousel Rimouski, Canada

1996

Mill Valley, USA

1996

International Film & Videofestival for Children & Youth, Kernan, Iran

- Award: Awarded the "Golden Butterfly" for best film.

1996

Cork, Rep. of Ireland

1996

MIFED, Italy (Beta Taurus)
Releases
Sena, 2008 - DVD
Námsgagnastofnun, 1997 - VHS
Baldur kvikmyndagerð, 1997 - VHS
---