---
Jitters
When Gabriel returns to Iceland from a two-week trip to Manchester, England, all those close to him seem to think that he has changed somewhat. Having met and befriended his stylist roommate Marcus in the UK, a free thinking, rebellious teenager.

Through a series of unfortunate events, tragedy befalls this tight-knit group when Stella, Gabriels best girlfriend, takes her own life. Crushed, Gabriel falls into a black hole of despair, which forces him to take a hard look at himself - which ultimately forces him to reveal a harsh, agonizing secret about himself.

What ensues is a tale of complex and fragile relationships, where teenagers struggle with their identities, while forging their place in a sometimes unyielding society. All the while coping with love, loss, hate, betrayal, euphoria, sadness and ultimately, forgiveness.
Where to watch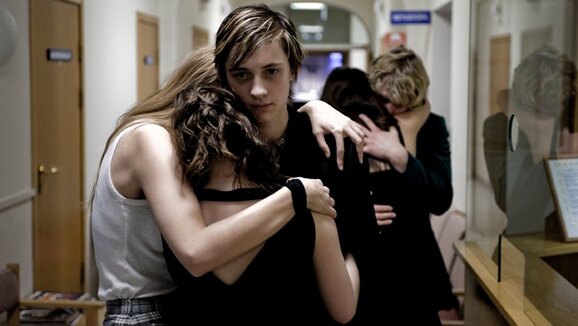 Crew
Directed by

Screenplay

Director of Photography

Editor

Music Composer

Producer

Advisor

Art Direction

Assistant Director

Assistant Editor

Based on a Story by

Boom Operator

Camera Assistant

Color Grader

Costume Design

Electrician

Fight Master

Gaffer

Key Grip

Loader

Location Manager

Make-Up

Production Designer

Production Manager

Props

Re-recording Mixer

Script Supervisor

Sound Recordist

Steadicam Operator

Stills Photography
About the film
Type

Feature Film

National Premiere Date

October 15, 2010, Sambíóin í Álfabakka

Genre

Drama

Length

93 min. 44 sec.

Language

Icelandic, English

Original Title

Órói

International Title

Jitters

Production Year

2010

Production Countries

Iceland

IMDB

Website

Icelandic Film Centre Grant

Yes

Production Format

HDcam

Aspect Ratio

2.39:1

Color

Yes

Sound

Dolby Stereo SR

Screening format and subtitles

DCP with English sub.
Cast
Main Cast

Supporting Cast

Kristín Pétursdóttir

,

Vilhelm Þór Neto

,

Lilja Guðrún Þorvaldsdóttir

,

Ingibjörg Reynisdóttir

,

Bergur Þór Ingólfsson

,

Þorsteinn Bachmann

,

Gísli Örn Garðarsson

,

Katla M. Þorgeirsdóttir

,

Árni Gestur Sigfússon

,

Saga Líf Friðriksdóttir

,

Ólafur Ásgeirsson

,

Alexander Lúðvíksson

,

Walter Grímsson

,

Davíð Freyr Þórunnarson

,

Ervin Shala

,

Artem Tseelichtch Lúðvíksson

,

Helena Einarsdóttir

,

Eline McKay

,

Kristinn Ágúst Friðfinnsson

,

Gísli Gíslason

,

Ingvar Þórðarson

,

Reynir Alfreðsson

,

Lovísa Rós Þórðardóttir

,

Bob Ram
Company Credits
Production Company

Supported by
Festivals
2015

Íslensk kvikmyndahátíð, Nuuk

2012

MIX Copenhagen, Copenhagen, Denmark,

2012

Regensburger Short Film Week, Germany

2012

The Melbourne Queer Film Festival, Australia

2012

BFI London Lespian and Gay Film Festival, UK

2012

Ciné-Jeune del'Aisne International Film Festival, France

2012

Roze Filmdagen, Amsterdam

2012

Cine Nordica, France

2011

exground filmfest, Germany

- Award: Won the International Youth Film Contest.

2011

GAFFA International Film Festival for Young People, Austria.

2011

Sao Paulo International Film Festival

2011

Tallinn Black Nights Film Festival, Children and Youth Film Festival Just Film, Estonia

2011

Kaunas International Film Festival, Lithuania

2011

Athens International Film Festival

2011

Indie Lisboa

2011

Edinburgh International Film Festival

2011

Seoul International Youth Film Festival

2011

Buster Film Festival (Denmark)

2011

Warsaw Film Festival

2011

Sprockets Toronto International Film Festival for Children and Youth

2011

Kristiansand International Children's Film Festival

- Award: Don Quixote prize for best film in the Youth section.

2011

Nordische Filmtage Lübeck

2011

Zlin Zlin Filmfest, Czech Republic.

2011

Cannes Film Festival, Market Screenings

2011

Edduverðlaunin / Edda Awards
Cinema distribution
Iceland

Sambíóin Álfabakka, 2010

Iceland

Sambíóin Kringlunni, 2010

Iceland

Sambíóin Selfossi, 2010

Iceland

Sambíóin Akureyri, 2010

Iceland

Sambíóin Egilshöll, 2010
---
---