---
Devil's Island
Devil's Island is a bitter sweet tale of Iceland in the fifties. Life is rough in Reykjavik's post-war slum of Camp Thule, where the abandoned US military barracks have been turned into makeshift homes. Struggling wives and their hard-working husbands try to make ends meet. The younger generation dreams of dollars, Rock'n'Roll and the American way of life. To celebrate or to drown their misery - they're never short of a good reason to booze. Devil's Island vividly depicts the everyday life of a wacky family, their neighbours and friends and shows how some of their dreams come true and others don't.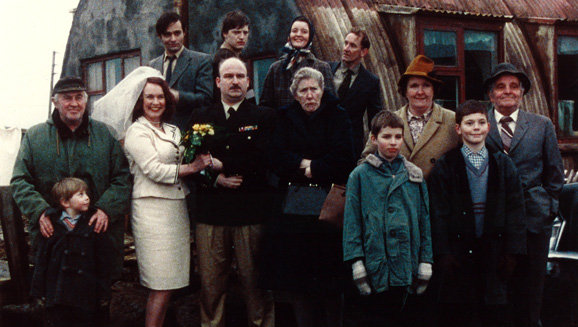 Crew
Directed by

Screenplay

Director of Photography

Editor

Music Composer

Producer

Advisor

Assistant Director

Boom Operator

Camera Assistant

Costume Design

Costumer

Costumes Made by

Gaffer

Hair Stylist

Key Grip

Line Producer

Make-Up

Music Conducted by

Music Performers

Post-production Sound Assistant

Production Accountant

Production Designer

Production Manager

Props

Script Supervisor

Sound Design

Special Effects
About the film
Type

Feature Film

National Premiere Date

October 3, 1996

Genre

Drama

Length

104 min.

Language

Icelandic

Original Title

Djöflaeyjan

International Title

Devil's Island

Production Year

1996

Production Countries

Iceland, Denmark, Norway, Germany

IMDB

Icelandic Film Centre Grant

Yes

Based on a

Novel

Antecendent Title

Devil's Island

Production Format

35mm

Aspect Ratio

1.85:1

Color

Yes

Sound

Dolby

Screening format and subtitles

SP Betacam w/English subtitles.
Cast
Main Cast

Supporting Cast

Guðmundur Ólafsson

,

Ingvar E. Sigurðsson

,

Magnús Ólafsson

,

Pálína Jónsdóttir

,

Saga Jónsdóttir

,

Arnljótur Sigurðsson

,

Gylfi Sigurðsson

,

Valgerður Sigurðardóttir

,

Óskar Jónasson

,

Ævar Örn Jósepsson

,

Helga Braga Jónsdóttir

,

Margrét Ákadóttir

,

Sigurður Sigurjónsson

,

Guðrún Gísladóttir

,

Atli Viðar Hafsteinsson

,

Árni Tryggvason

,

Guðbrandur Valdimarsson

,

Gunnar Eyjólfsson

,

Björgvin Halldórsson

,

Jón Júlíusson

,

Björn Ingi Hilmarsson

,

Harald G. Haraldsson

,

Jóhannes B. Guðmundsson

,

Geo von Krogh

,

Örvar Jens Arnarsson

,

Friðrik Steinn Friðriksson

,

Greg Alldredge

,

John O'Neill

,

Matt Perkins

,

Samuel Lefever

,

Jón Ólafsson

,

Valdimar Örnólfsson

,

Fríður Hannesdóttir

,

Helgi Valdimarsson

,

Viggó Valdimarsson

,

Þórir Baldursson

,

Vilhjálmur Guðjónsson

,

Tómas R. Einarsson

,

Einar Scheving

,

Árni Scheving

,

Rúnar Georgsson

,

Darren Foreman

,

Ingvar Þórðarson
Company Credits
Production Company

In Partnership With

Supported by
Festivals
2014

Pula Film Festival

2010

Artfilmfest International Film Festival

2010

Yerevan International Film Festival

2010

Summer Film School

2009

Nordatlantens Brygge Biodage

2009

Plus Camerimage Film Festival

1997

Academy Awards

- Award: Iceland´s Entry for Best Foreign language Film.

1997

Gothenburg Film Festival

1997

Berlin Ing. Film Festival Forum

1997

Nordic Film Festival, Rouen

- Award: Yong Audience Prize.

1997

Augsburg Int. Film Festival

1997

Festival of World cinema, Philadelphia

1997

Int. Film Festival of Trioa

1997

San Francisco Int. Film Festival

1997

Scandinavian Film Festival

1997

International Film Festival, Sochi

1997

Midnight Sun Film Festival

1997

Festival de la Baule du Film Europeen

1997

Karlovy Vary Int. Film Festival

- Award: Firpesci Prize. FICC Prize.

1997

Jerusalem Film Festival

1997

Edinburght Int. Film Festival

1997

Haugesund, Norwegian Internatinoal Film Festival

- Award: Best Nordic Film 1997.

1997

Toronto Int. Film Festival

1997

Forum du Cinema Européen de Strasbourg

1997

Cinéfest, Sudbury

1997

Atlantic Film Festival

1997

Europa Cinema & TV

1997

Medfilm, Rome

1997

Warsaw Film Festival

1997

Vancouver Int. Film Festival

1997

Chicago Int. Film Festival

1997

Sao Paulo Int. Film Festival

1997

Denver Int. Film Festival

1997

Puerto Rico Int. Film Festival

1997

Mar del Plata Int. Film Festival

1997

Thessaloniki Int. Film Festival
Television distribution
Iceland

RÚV, 1998

Iceland

RÚV, 2000
Releases
Sena, 2008 - DVD
Sam-myndbönd, 2004 - DVD
Fox Lorber Films, 2000 - DVD
Skífan ehf., 1997 - VHS
Íslenska kvikmyndasamsteypan, 1996 - VHS
---