---
Unholy Night
It is the night before Christmas and all through the decrepit school house nothing is stirring, not even a mouse.

Well that is not exactly the truth, but what has happened in this weather beaten building in the barren Icelandic tundra is more akin to cruel fantasy than stark reality. A few days ago the participants of an experimental rehab clinic came there in order to cast out their inner demons, stay away from temptation and finally discover a little about their sober selves. That didn't go quite according to plan, but they discovered Santa was real.

Not the jolly fat man of the Coca Cola variety, but the scary outlawish Yule Man from Icelandic folk tales. Legend tells us that they were 13: Peeping Tom, Meathook and other family friendly names; and they were the children of a cannibalistic ogre called Greela, who was as old as the Sagas. Throughout the centuries they were used to frighten children – to ensure they would stay in over the harsh Christmas period.

Being used to that every day is a constant struggle for survival and the next fix the participants manage to fend of the Yule Men's first attack – suffering some casualties in the battle. "Unholy Night" takes place the night after the first attack.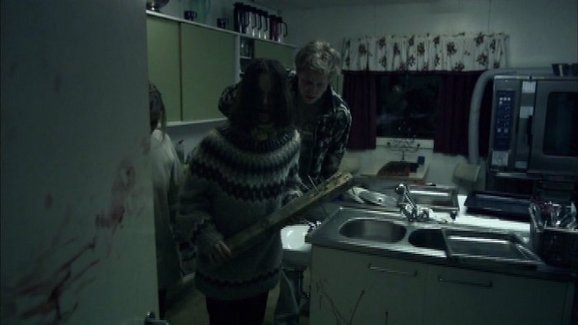 Crew
Directed by

Screenplay

Director of Photography

Editor

Producer

Co-Producer

Advisor

Casting by

Color Grader

Compositing

Costume Design

Gaffer

Key Grip

Line Producer

Make-Up

Post-production Supervisor

Production Designer

Set Decoration

Sound Design

Sound Engineer

Sound Supervisor

Special Effects

Special Make-up Effects
About the film
Type

Short Film

National Premiere Date

December 23, 2007

Genre

Horror

Length

10 min.

Language

Icelandic

Original Title

Örstutt jól

International Title

Unholy Night

Production Year

2007

Production Countries

Iceland

IMDB

Website

Icelandic Film Centre Grant

Yes

Production Format

HDcam

Aspect Ratio

16:9

Color

Yes

Sound

Dolby Digital
Cast
Main Cast

Supporting Cast
Company Credits
Production Company

In Partnership With
Festivals
2010

Scanorama European Film Forum
---