---
Last Stop
It is these regular visitors to the Hlemmur bus station that the camera observes. People who have made Hlemmur their second home. They are almost all men and their common goal seems to be to find a way of passing the time. Most of them once had a family, a wife and children, but now they are alone. Something has thrown them off-track: some have been ruined by drink, others struggle with serious mental illnesses, others are on benefit or are simply old and lonely.

But as one of the film's protagonists points out, no one asks whether life is fair. In winter, the homeless have little choice but to crawl under a tree and spend the night there when they are drunk, or try their luck at the "Hotel Hilton", as they call Reykjavik's biggest prison, next to Hlemmur. The life of these down-and-outs seems to be one endless cycle of scraping together enough money for the high-proof cardamom essence they drink, and the desperate attempt to remember what happened the day before. And the only thing left to many of them is the hope they won't have to survive the following day. They speak frankly and surprisingly poetically about their life on the street and what drove them there. Very gradually, the viewers develop a close rapport with these men.

Occasionally, Hlemmur's frequenters believe things might be getting better. Like when the depressive Josef finds work again for the first time in ten years. The camera accompanies him to the Kleppur psychiatric clinic where for a few hours every day, he packs bag after bag into box after endless box. Or when the almost 70-year old Omar goes for detox treatment at a remote, top-security clinic on the outskirts of Reykjavik, or the alert but mentally unstable Björgvin Omar sits on a bench outside the bus station twitching convulsively but still clinging to the hope that he'll one day get better. Almost desperately, we hope their timid dreams of a normal life will come true, not least of all because they are so conscious of their situation. But it's clear there's no going back.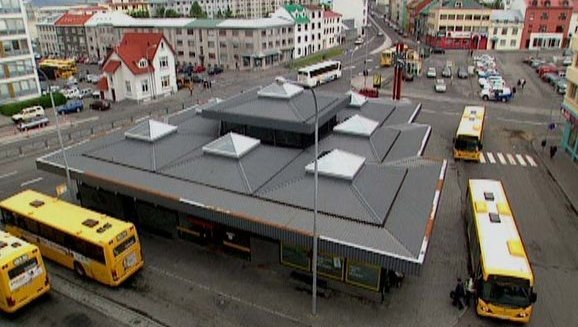 Crew
Directed by

Screenplay

Director of Photography

Editor

Music Composer

Producer

Co-Producer

Line Producer

Re-recording Mixer

Sound

Sound Editor
About the film
Type

Documentary

National Premiere Date

December 13, 2002, Háskólabíó

Length

86 min.

Language

Icelandic

Original Title

Hlemmur

International Title

Last Stop

Production Year

2002

Production Countries

Iceland, Germany

IMDB

Icelandic Film Centre Grant

Yes

Production Format

Digibeta Pal

Color

Yes
Company Credits
Production Company

In Partnership With

Supported by
Festivals
2009

Sinny & Ooko

2005

Iceland International Film Festival

2003

Edduverðlaunin / The Edda Award

- Award: Documentary of the Year. Score of the Year (Sigur Rós). Nominated for Director of the Year. Nominated for Screenplay of the Year (Ólafur Sveinsson).

2002

Nordic Film Days Lübeck

????

Göteborg International Film Festival
---