---
Mamma Gógó
Mamma Gógó is about Gógó, an elderly lady, who is diagnosed with Alzheimer disease and her son's and family's reaction to her illness. While Gógó is continuously getting herself into trouble, of the kind only a person with Alzheimer can, the son, the director, is struggling with financial troubles after his film Children of Nature has flopped in the cinema. As Gógó's disease progresses her family decides that it is best for her to move to a nursing home. Gógó and her deceased husband, who appears on the scene, are not happy with that decision. The director is dependent on others when it comes to his finances and when Gógó settles into the nursing home he decides to sell his mother's apartment and valuable artwork but the profits of the sale help him to get by.

The Icelandic film 79' af stöðinni from 1961 comes to play in Mamma Gógó but the leading couple in that film were Kristbjörg Kjeld and Gunnar Eyjólfsson the same actors who play Gógó and her deceased husband in Mamma Gógó. Gógó's memories of her husband are also connected to 79' af stöðinni but scenes from the film are used in Mamma Gógó when Gógó reflects on her life while disappearing more and more into her disease.

Mamma Gógó demonstrates the tragicomical side of Alzheimer and the difficulties and conflict of the relatives is portrayed in a unique way in the mother and son's relationship. Simultaneously, Fridrik satirizes the political environment of his society which has affected his film making – for better and for worse.
Where to watch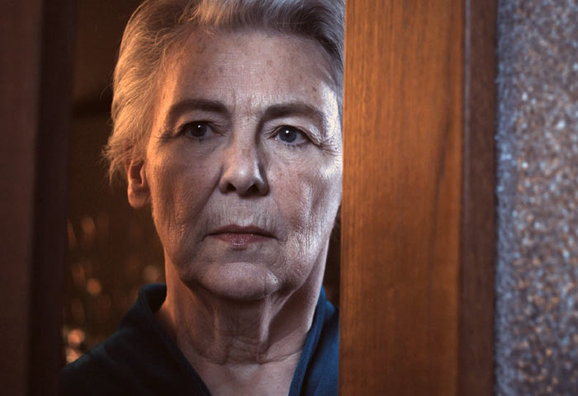 Crew
Directed by

Screenplay

Director of Photography

Editor

Music Composer

Producer

Co-Producer

Advisor

Assistant Director

Assistant Producer

Best Boy

Camera Assistant

Color Grader

Costume Design

Dubbing Speakers

Foley

Gaffer

Hair Stylist

Key Grip

Line Producer

Loader

Location Manager

Make-Up

Montage

Music Conducted by

Music Performers

Hjörleifur Valsson

,

Örn Eldjárn

,

Bryndís Halla Gylfadóttir

,

Gréta Guðnadóttir

,

Bryndís Pálsdóttir

,

Margrét Kristjánsdóttir

,

Hildigunnur Halldórsdóttir

,

Pálína Árnadóttir

,

Ingrid Karlsdóttir

,

Guðmundur Kristmundsson

,

Þórarinn Már Baldursson

,

Svava Bernharðsdóttir

,

Sigurður Halldórsson

,

Lovísa Fjelsted

,

Margrét Árnadóttir

Production Coordinator

Production Designer

Production Manager

Props

Re-recording Mixer

Script Supervisor

Sound

Sound Design

Sound Editor

Sound Engineer

Special Effects

Translation
About the film
Type

Feature Film

National Premiere Date

January 1, 2010, Háskólabíó

Genre

Drama

Length

90 min.

Language

Icelandic

Original Title

Mamma Gógó

International Title

Mamma Gógó

Production Year

2010

Production Countries

Iceland, Norway, Sweden, Germany, United Kingdom

IMDB

Icelandic Film Centre Grant

Yes

Production Format

RED

Aspect Ratio

1.85:1

Color

Yes

Sound

Dolby Digital

Screening format and subtitles

35mm w. English sub. - 35mm w. French sub. DCP w. English sub. - DigiBeta w.English sub. - Blu Ray w, English sub.
Cast
Main Cast

Supporting Cast

Ólafía Hrönn Jónsdóttir

,

Inga María Valdimarsdóttir

,

Arnar Jósefsson

,

Ólafur Ragnar Grímsson

,

Guðmundur Steinn Gíslason

,

Jón Símon Gunnarsson

,

Ragnhildur Richter

,

Dominique Sigrúnardóttir

,

Víkingur Kristjánsson

,

Sigurður Benjamínsson

,

Edda Arnljótsdóttir

,

Helgi Gunnarsson

,

Andri F. Helgason

,

Ásgeir Valur Flosason

,

Birkir Árnason

,

Sigurbjörn Þorkelsson

,

Ásdís Kvaran

,

Þórarinn Óskar Þórarinsson

,

Heimir Jökulsson

,

Þórhalla Karlsdóttir

,

Jóhann Sigurðarson

,

Johannes Joner

,

Börge Wigum

,

Hjörtur B. Þorleifsson

,

Guðrún Þorvarðardóttir

,

Hallmar Sigurðsson

,

Margrét Dagmar Ericsdóttir

,

Agustin Nacarro Cortés

,

Þórhallur Gunnarsson

,

Ragna Fossberg

,

Ragnhildur Steinunn Jónsdóttir

,

Bjarni Ingvarsson

,

Grettir Kjartansson

,

Karlakórinn Heimir

,

Ása Hlín Svavarsdóttir

,

Melkorka Davíðsdóttir Pitt

,

Björn Viktorsson

,

Hörður Jóhannesson

,

Jón Karl Helgason

,

Kristján Hreinsson

,

Shabana Zaman

,

Unnur Hjálmarsdóttir

,

Jóhann A. Kristinsson

,

Pétur Einarsson

,

Arnar Ingvarsson

,

Bui Thi Thom

,

Elsa Dung Ínudóttir

,

Ólöf Hugrún Valdimarsdóttir

,

Thi Xuan Le

,

Litli kór Kársness

,

Bogi Ágústsson

,

Lúðvík Friðriksson

,

Hulda Dögg Proppé

,

Reynir Örn Þrastarson

,

Lára I.S.Portal

,

Magnús Jochum Pálsson

,

Kári Pálsson
Company Credits
Production Company

In Partnership With

Supported by
Festivals
2014

Festival Cinemá d'Alés - Itinérances

2014

Salisbury International Arts Festival

2013

Scandinavia House New York, USA

2012

Film festival by the Sea, Holland

2012

Two Riversides Film and Art Festival, Pollandi

2012

4 Steps into the Great North - Icelandic Days, Rome, Italy

2012

Tokyo Northern Lights Festival, Japan

2012

Fajr Festival International Film Festival, Teheran, Iran

2012

Festival Air d'Islande, France

2012

A L'est du Nouveau, Mont-Saint-Aignan, France

2011

Scandinavian Film Days Bonn

2011

Polar Lights International Arctic Film Festival, Murmunsk

- Award: Best actress in a leading role (Kristbjörg Kjeld).

2011

Cleveland International Film Festival

2011

Washington DC International Film Festival

2011

Minneapolis St. Paul International Film Festival

2011

Skandinavische Film Tage Bonn

2011

Arctic Film Festival

2011

Espoo Cine Finnland

2011

Stony Brook Film Festival

2011

Shanghai International Film Festival

2011

Fünf-Seen-Filmfestival, Germany

2011

Galway Film Fleadh, Ireland

2011

Gimli Film Festival

2011

Festroia International Film Festival (Portugal)

2011

Göteborg International Film Festival

2011

Cinequest Film Festival

2011

Miami International Film Festival

2011

Sofia International Film Festival

2011

Guadaljara International Film Festival

2011

Cinema Mundi International Film Festival

2011

Istanbul Film Festival

2011

Filmfest DC

2011

Taste of Iceland

2011

Scottsdale Film Festival

2011

Sagenhaftes Island / Deutsches Film Museum

2011

Tashkent International Film Festival Uzbekistan

2011

Kolkata Film Festival

2011

Funchal International Film Festival

- Award: Best actress (Kristbjörg Kjeld).

2010

Edduverðlaunin / Edda Awards

2010

Artfilmfest International Film Festival

2010

Toronto International Film Festival

2010

Filmfest Hamburg

2010

Pusan International Film Festival

2010

Mumbai Film Festival

2010

Sao Paulo International Film Festival

2010

Nordische Filmtage Lübeck

2010

Sevilla International Film Festival

2010

Wiesbadan Kino Film Festival

2010

PÖFF - Tallin Black Night Film Festival

2010

International Rome Film Festival

2010

Scanorama European Film Forum
Cinema distribution
Iceland

Smárabíó, 2010

Iceland

Háskólabíó, 2010

Iceland

Borgarbíó Akureyri, 2010

Iceland

Laugarásbíó, 2010
---
---