---
Seagull's Laughter, The
In 1953 Freyja, an Icelandic woman in her mid twenties comes back from America. She had married an American serviceman during the war, moved with him to the United States, but now she is back, a widow. She settles down with her somewhat distant relatives in a small fishing town near Reykjavik.

Freyja is extremely beautiful, with just the right figure for the fashion of the day: tall and slim, still endowed with a large bosom and, another symbol of femininity: an unusually long, chestnut-brown hair, down to her buttocks. She is the Icelandic version of Rita Heyworth, who, in the period in question, would have been just the right cast for this part.

It becomes clear very early on that Freyja has ambitions to get on in life. But how does a working-class girl of those times go about doing just that? The other women of the house are in no doubt about the only option available: to find a man and to get married again.

Freyja is something of a mystery, to the other women of the house and even more to the men in her life. She is seen through the eyes of eleven-year old Agga, who is always on the right spot, following everybody's moves, especially those of Freyja, who, even after careful scrutiny on Agga's part, remains equally enigmatic. The name Freyja means the Goddess of Love in Old Norse mythology, and in many of Freyja's lines and in her attitude, especially towards men, she is reminiscent of the heroines of the Icelandic sagas. This sex queen can be cold as a corpse, as Agga points out to her friend, the local policeman. Needless to say, the policeman is infatuated with Freyja, just like so many other men in the town.

Freyja, however, is after a higher prize: Björn Theodor, a construction engineer and a shareholder in the local fishing industry, who is expected to marry the daughter of the local magistrate. But during the festivities on the National Day Freyja and Björn fall for each other in a big way, culminating in great passion under racks of dried codfish. Then he leaves for Germany to finish his studies. And the whole winter he doesn't even write to her.

A man dies in a fire: the hard-drinking husband of Freyja's best friend. Agga has a good reason to suspect Freyja of actually starting the fire and she goes to the local policeman to report a murder. He, of course, laughs it off.

We get to know Agga's colorful family: Granddad, a fisherman with strong political views and little patience with the women of the house, Granny, the queen of the kitchen, the somewhat retarded Ninna, and Dodo, young and pretty, with a sharp tongue and a heart full of romance.

When Björn Theodor returns from his studies in Germany, Agga is instrumental in bringing him and Freyja together, and this time they actually get married. But the fight isn't over. Freyja meets with true animosity from her mother-in-law, who is much too snobbish to accept her son's choice of bride. But taking on Freyja is more than she can chew. After a hard struggle, in a moment of great fury, Freyja picks up the old lady's cat and throws it in her back, as she is walking down the grand staircase of the house. The mother-in-law ends up in hospital.

The marriage has its ups and downs, great passion, viewed through a key-hole by the ever inquisitive Agga, sharp exchanges, sexual manipulation, but things get really serious when, after Freyja gets pregnant, Björn Theodor starts showing a renewed interest in his childhood fancy. Björn Theodor and his old girlfriend have always been the ice-skating pair of the town, and the affair starts on a frozen lake in the lava-field which surrounds the township.

Freyja moves back to Agga's house. Björn Theodor, who despite his sexual aberrations is very much in love with his wife, tries to win her back, but Freyja refuses "while that hag is in the house". On New Year's Eve, the somewhat inebriated Björn Theodor tries to drag his wife with him, but the women of the house come to her rescue and attack the man. The struggle ends when the heavily pregnant Freyja picks up a table flagpole and drives it into her husband's head: Björn Theodor is fatally wounded.

But Agga, by now 13, has the last word. To begin with, her friend the local policeman won't believe her when she tells him what she observed from her hiding place under the sofa, on the night when Björn Theodor was said to have fallen down the steps and banged his head, quite by accident, against the radiator.

In the end the policeman comes to realize that Agga has been telling the truth all the time, and he also senses that she is growing into a beautiful woman with much the same features as Freyja, including a nice-looking pair of breasts, but at that moment, Agga suddenly changes her mind. She takes everything back. She realizes that she can't betray her family, and, from that moment on, she is part of the great conspiracy of women against men.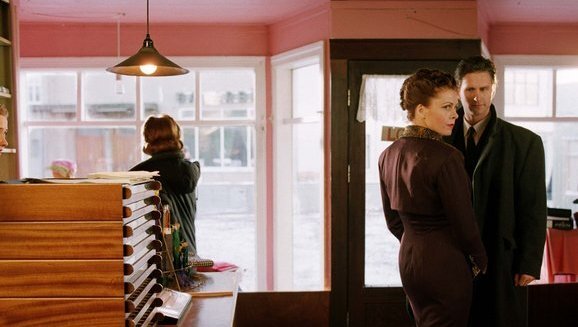 Crew
Directed by

Screenplay

Director of Photography

Editor

Music Composer

Producer

Co-Producer

Animal Trainer

Assistant Editor

Camera Assistant

Costume Design

Costumer

Gaffer

Hair Stylist

Key Grip

Loader

Make-Up

Production Accountant

Production Designer

Re-recording Mixer

Sound Engineer

Sound Recordist

Special Effects

Stills Photography
About the film
Type

Feature Film

National Premiere Date

October 18, 2001, Háskólabíó

Genre

Comedy, Drama

Length

104 min.

Language

Icelandic

Original Title

Mávahlátur

International Title

Seagull's Laughter, The

Production Year

2001

Production Countries

Iceland, Denmark, Germany, United Kingdom

IMDB

Icelandic Film Centre Grant

Yes

Based on a

Novel

Production Format

35mm

Aspect Ratio

2.35:1

Color

Yes

Sound

Dolby

Screening format and subtitles

DCP with; English sub. - 35mm film without sub. - Betacam SP with English sub. -
Cast
Main Cast

Supporting Cast

Bára Lyngdal Magnúsdóttir

,

Eyvindur Erlendsson

,

Guðlaug Elísabet Ólafsdóttir

,

Sigurveig Jónsdóttir

,

Diljá Mist Einarsdóttir

,

Halldóra Geirharðsdóttir

,

Jónína Ólafsdóttir

,

Charlotte Bøving

,

Benedikt Erlingsson

,

Arnar Jónsson

,

Anna Kristín Arngrímsdóttir

,

Gunnar Hansson

,

Baldur Trausti Hreinsson

,

Guðmundur Ólafsson

,

Theódór Júlíusson

,

Sigurður Skúlason

,

Gunnar Helgason

,

Halldór Magnússon

,

Kjartan Ragnarsson

,

Jón Júlíusson

,

Valgeir Guðjónsson

,

Magnús Ragnarsson

,

Lísa Pálsdóttir

,

Bryndís Pétursdóttir
Company Credits
Production Company

Co-Production Company

Supported by
Festivals
2016

Ultima Thule, ýmsir sýningarstaðir, Pólland

2010

Summer Film School

2009

Scandinavian House

2003

Febiofest

2003

Faces of Love Jan

2003

Tromsø Int. Film Festival

2002

Academy Awards

- Award: Iceland´s Entry for Best Foreign language Film.

2002

37th Karlovy Vary Int. Film Festival

- Award: Best Actress. Nominated for Crystal Globe

2002

Nis Film Festival

2002

Montréal Int. Film Festival

2002

Europa Cinema Viaraggio

2002

Bordeaux Int. Festival

2002

Women in Cinema

2002

Haifa Int. Film Festival

2002

Warsaw Int. Film Festival

2002

Flanders-Chent Ingt. Film Festial

2002

BIFF Bergen Int. Film Festival

2002

Cairo Int. Film Festival

2002

Istanbul Autum Film Festival

2002

Sao Paulo Int. Film Festival

2002

Nordishe Filmtage Lübeck

- Award: Ecumenical Jury Prize.

2002

Pusan Int. Film Festival

2002

Stockholm Int. Film Festival

2002

Black Night's Film Festival

2002

Ljubljana Int. Film Festival

2002

Edduverðlaunin / Edda Awards

- Award: Best film. Best Director. Best Screenplay (Águst Gudmundsson). Actress in a Leading Role (Margrét Vilhjálmsdótiir). Actress in a Supporting Role (Kristbjörg Kjeld). Actor in a Supporting Role (Hilmir Snaer Gudnason). Nominated for Actress in a Leading Role (Ugla Egilsdóttir). Nominated for Actress in a Supporting Role (Halldóra Geirharðsdóttir, Sigurveig Jónsdóttir). Nominated for Actor in a Supporting Role (Eyvindur Erlendsson).
Releases
Epix media AG, 2007 - DVD
Home Vision Entertainment, 2005 - DVD
Ísfilm, 2002 - DVD
Ísfilm, 2002 - VHS
---