---
Dis
Dís is a 23 year old girl living in Reykjavik. She´s smart, funny, charming, outgoing and likeable. Nevertheless, she's troubled by the fact that she doesn´t quite know what to do with her life and how she compares to others. Other people seem so focused and know where they´re heading!

The story is set in the summer of 2000, when Dís has a summer job as a receptionist at Hótel Borg, a hotel in the heart of Reykjavik. Her plans for the autumn are to give the University of Iceland a third try, this time in the anthropology department (she had earlier checked out comparative literature and psychology). At Hótel Borg Dís makes friends with Gaui, an eccentric man who lives at the hotel and has an admiring fixation on Vigdís Finnbogadóttir, Iceland's former president of 16 years and the world's first elected female head-of-state.

Dís also gets acquainted with Jón Ágúst, a hotel chef, who charms her with flowers and chest hair, but nevertheless seems "too" perfect. One of the interesting foreigners she meets at work is Jamie Kooley, a superwoman/photographer from New York City. Dís gets an opportunity to help Kooley out and together they spend a weekend on a photo shoot in the dramatic landscape of rural Iceland. Before she leaves, Kooley offers Dís a permanent job as her assistant. The "lost" Dís is thrilled. The offer seems the perfect solution to her existential crisis and she starts preparing to move to New York.

Dís rents a flat in downtown Reykjavik. Her flat mate is her best friend Blaer, a free spirit who works at a multicultural center. Blaer is also active in an amateur theater group and is constantly occupied with her many other hobbies. Blaer dates two guys during the summer who happen to be identical twins! Blaer and Dís are inseparable and share a strange and sometimes outrageous sense of humor, which includes philosophical ponderings on their favorite TV show – Dallas – and an interest in the "not so complicated" postmodern state of contemporary life. Dís has another group of friends who to her represent the kind of a bourgeois lifestyle that doesn't really appeal to her. Magga, the reigning queen of that group, gets married during the summer and she wants the wedding no less than perfect!

Through the course of the story, Dís is involved with two men romantically. Besides Jón Ágúst, there is Lalli whom Dís meets through Jamie Kooley. Dís and Lalli are involved in a passionate affair which reaches its climax during an earthquake that rattles Reykjavik on Iceland's Independence Day. Towards the end of the summer, Jamie Kooley retracts her job offer and Dís is devastated, feeling more lost than ever. Then Gaui dies, and she pays him her final respects by asking former president Vigdís Finnbogadottir to attend his funeral.
Much to Dís´s surprise, Gaui leaves her an old Leica camera which symbolizes a new opportunity for her. Blaer finds out that she is pregnant. The question is: who´s the father?

At the end we see a determined and happier Dís who has the future ahead of her and doesn't seem afraid to pursue what it might have in store for her.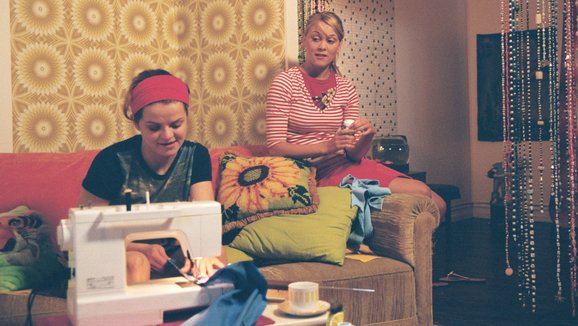 Crew
Directed by

Screenplay

Director of Photography

Editor

Music Composer

Producer

Advisor

Assistant Director

Boom Operator

Camera Assistant

Color Grader

Costume Design

Digital Wrangler

Gaffer

Lighter

Line Producer

Make-Up

Music Performers

Production Accountant

Production Assistant

Production Designer

Props

Re-recording Mixer

Sound Design

Sound Engineer

Stills Photography

Translation

Visual Effects
About the film
Type

Feature Film

National Premiere Date

September 3, 2004

Genre

Comedy

Length

82 min.

Language

Icelandic

Original Title

Dís

International Title

Dis

Production Year

2004

Production Countries

Iceland

IMDB

Website

Icelandic Film Centre Grant

Yes

Based on a

Novel

Production Format

DVCAM

Aspect Ratio

1.66:1

Color

Yes

Sound

Dolby

Screening format and subtitles

35mm film without sub. 35mm film with English sub. - 35mm film with Icelandic sub. -
Cast
Main Cast

Supporting Cast

Þórunn Erna Clausen

,

Gunnar Hansson

,

Unnur Ösp Stefánsdóttir

,

Ívar Örn Sverrisson

,

Elma Lísa Gunnarsdóttir

,

Gísli Pétur Hinriksson

,

Ari Matthíasson

,

Guðrún Gísladóttir

,

Sigurður Skúlason

,

Þorsteinn Gunnarsson

,

Edda Gunnarsdóttir

,

Halldóra Geirharðsdóttir

,

Hólmfríður Anna Baldursdóttir

,

Rakel Sif Sigurðardóttir

,

Sigríður Nanna Heimisdóttir

,

Sigrún Ýr Magnúsdóttir

,

Vigdís Másdóttir

,

Andrés Gunnarsson

,

Gunnar Gunnarsson

,

Andrew Hicks

,

Simon Roy

,

Darren Foreman

,

Edda Björg Eyjólfsdóttir

,

Hjördís Lilja Örnólfsdóttir

,

Sigrún Harpa Jósepsdóttir

,

Einar Baldvin Arason

,

Friðgeir Einarsson

,

Hannes Óli Ágústsson

,

Sara Friðgeirsdóttir

,

Melkorka Óskarsdóttir

,

Ylfa Ösp Áskelsdóttir

,

Bryndís Jakobsdóttir

,

Birgir Björnsson

,

Hallgerður Hallgrímsdóttir

,

Sigurður Arent Jónsson

,

Sverrir Ingi Gunnarsson

,

Hjörleifur Valsson

,

Ástvaldur Traustason

,

Pálmi Matthíasson

,

Hannes Hólmsteinn Gissurarson

,

Kolbrún Bergþórsdóttir

,

Eva María Jónsdóttir

,

Vigdís Finnbogadóttir
Company Credits
Production Company

Supported by

Sound
Festivals
2005

Shanghai International Film Festival

2005

Haugesund Norwegian Int. Film Festival

2004

Edduverðlaunin / Edda Awards

- Award: Nominated for Feature Film of the Year. Nominated for Actress of the Year in a Supporting Role (llmur Kristjánsdóttir & Thórunn Erna Clausen).
Releases
Skífan ehf., 2004 - DVD
Skífan ehf., 2004 - VHS
---