---
Angels of the Universe
At first we see him with his family, childhood friends and the girl (Halldóra Geirhardsdóttir) that he loves, and then we follow him into the psychiatric hospital. There we meet his colorful companions Óli Beatle (Baltasar Kormákur), who believes he has written all the Beatles' songs and sent them to the group as telepathic messages; the sophisticated and erudite Viktor (Björn Jörundur), who sometimes suddenly turns into Hitler; and Peter (Hilmir Snær Gudnason), Paul's room-mate, who has freaked out on acid and is under the impression he wrote a doctorate about Schiller at a Chinese university.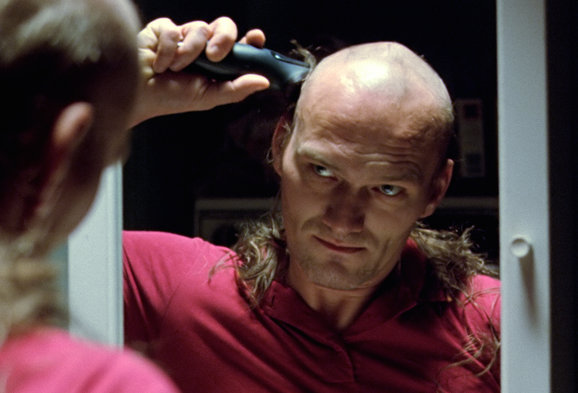 Crew
Directed by

Screenplay

Director of Photography

Editor

Music Composer

Producer

Co-Producer

Advisor

Aerial Photography

Animal Trainer

Assistant Director

Camera Assistant

Costume Design

Costumer

Dubbing Editor

Foley

Gaffer

Key Grip

Lighter

Line Producer

Loader

Make-Up

Music Arranger

Production Designer

Props

Re-recording Mixer

Script Supervisor

Set Design

Sound Design

Sound Editor

Sound Engineer

Stills Photography

Stunts

Titles
About the film
Type

Feature Film

National Premiere Date

January 1, 2000, Háskólabíó

Genre

Drama

Length

97 min.

Language

Icelandic

Original Title

Englar alheimsins

International Title

Angels of the Universe

Production Year

2000

Production Countries

Iceland, Denmark, Norway, Sweden, Germany

IMDB

Icelandic Film Centre Grant

Yes

Based on a

Novel

Antecendent Title

Angels of the Universe

Production Format

35mm

Aspect Ratio

1.85:1

Color

Yes

Sound

Dolby

Screening format and subtitles

DCP with; English, German,French,Czech sub. - 35mm film with English sub. 35 mm film with French sub. - Blu Ray with; English, German,French,Czech sub. -SP Betacam w/English subtitles.
Cast
Main Cast

Supporting Cast

Margrét Helga Jóhannsdóttir

,

Theódór Júlíusson

,

Friðrik Steinn Friðriksson

,

Sara Margrét Nordahl Michaelsdóttir

,

Halldóra Geirharðsdóttir

,

Þór Túliníus

,

Hrönn Steingrímsdóttir

,

Pétur Einarsson

,

Egill Ólafsson

,

Pálmi Gestsson

,

Jón Karl Helgason

,

Baldvin Halldórsson

,

Jón Hjartarson

,

Inga María Valdimarsdóttir

,

Jóhannes Skúlason

,

Salka Svanhvítardóttir

,

Jóhanna Jónas

,

Geo von Krogh

,

Rúrik Haraldsson

,

Anna Kristín Arngrímsdóttir

,

Gunnar Helgi Heiðar

,

Jón Stefánsson

,

Jón Stefán Kristjánsson

,

Jón Þór Ólafsson

,

Höskuldur Skagfjörð
Company Credits
Production Company

Co-Production Company

Supported by
Festivals
2014

Pula Film Festival

2012

A'l'Est, du Nouveau, France

2012

Images from the Edge: Classic and Contempory Films from Iceland, Lincoln Center, New York

2011

ARTscape, Lithuania

2010

Icelandic Film Days, Innspruck

2010

Artfilmfest International Film Festival

2010

Yerevan International Film Festival

2010

Summer Film School

2010

Icelandic Film Days Strasbourg

2009

Festival Intertational Mar del Plata

2009

Plus Camerimage Film Festival

2001

Academy Awards

- Award: Iceland´s Entry for Best Foreign language Film.

2001

Sundance Film Festival

2001

Santa Barbara Film Festival

- Award: World Prism Award.

2001

Cinema nordique in Rouen

2001

Istanbul Int. Film Festival

2001

Festival Cinema Africano

2001

Hong Kong Int. Film Festival

2001

Troia Int. Film Festival

- Award: OCIC Award - Special Mention (Fridrik ThórFridriksson). Silver Dolphin for Best Actori (Ingvar E. Sigurdsson).

2001

Geniuzastare Film Festival

2001

Melbourne Int. Film Festival

2001

Festival de Sevilla

2001

27th Korean Independent Film Festival

2000

Göteborg Film Festival

- Award: Best Screenplay.

2000

Filmfest München

2000

Karlovy Vary Int. Film Festival

- Award: The main Fipresci Jury Prize. Special Jury Mention.

2000

Galway Film Fleadh

2000

Jerusalem Film Festival

2000

The Motovun Film Festival

2000

Edinburgh Int. Film Festival

2000

Blue Sea Film Festival

2000

European Film Awards

- Award: The People's Choice Awards: Best European Actor (Ingvar E. Sigurdsson). Nominated for Best European Actor (Ingvar E. Sigurdsson)

2000

New Nordic Films

2000

Toronto Int. Film Festival

2000

Film by the Sea

- Award: Best film.

2000

Film Forum Arsenals

2000

Warsaw Film Festival

2000

Pusan Int. Film Festival

2000

Flanders Int. Film Festival

2000

Sao Paulo Int. Film Festival

2000

Durban Int. Film Festival

2000

Nordische Filmtage

2000

Thessaloniki Int. Film Festival

2000

Black Nights Film Festival

????

The Edda Awards

- Award: Film of the Year. Director of the Year. Actor in a leading role (Ingvar E. Sigurdsson). Actor in a supporting role (Björn Jörundur Fridbjörnsson). Actress in a supporting role (Margrét Helga Jóhannsdóttir), Original Score of the Year (Himar Örn Hilmarsson, Sound Design of the Year (Kjartan Kjartansson, )
Releases
Sena, 2008 - DVD
KSM GmbH, 2007 - DVD
Sam-myndbönd, 2002 - VHS
Sam-myndbönd, 2002 - DVD
---