---
Mihkel
The Biblical story of Judas is retold by way of a real-life tragedy that took place in Iceland in 2004. We meet three childhood friends in Estonia – Mihkel, Veera and Igor – at the time when their country is breaking with the Soviet Union. The first country to formally recognize Estonian independence in 1991 was Iceland. Iceland immediately became a symbol of hope.

Twenty years later the story continues. Igor has emigrated to Iceland a few years earlier and told Mihkel of all the opportunities it has to offer. Mihkel decides to make a new life for himself and his fiancée, Veera. Igor convinces Mihkel to transport liquid amphetamine and then seek payment from an Estonian priest, Igor's business partner in Tallinn. Rather than getting paid, he is instead coerced into swallowing seventy capsules of drugs to take on to Iceland.

He arrives in Iceland and is picked up by Igor and his two Icelandic accomplices, Jóhann and Bóbó. However, in the next two days it becomes clear that Mihkel cannot pass the drugs. More frantic activity ensues as the situation becomes more serious. Finally, in great pain and deep delirium, Mihkel dies.

Mihkel's death brings problems for the team: Bóbó abandons Jóhann and Igor who pack up Mihkel's corpse in a truck and set out on a nightmarish journey across the dark winter landscape to Bóbó's hometown where, together, they dump Mihkel's corpse into the cold Atlantic ocean.
Where to watch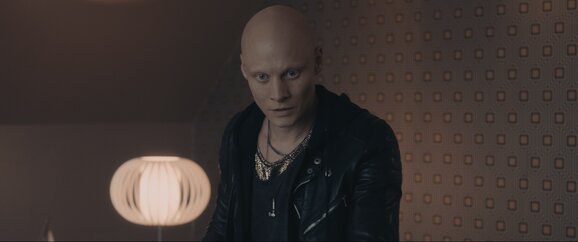 Crew
Directed by

Screenplay

Director of Photography

Editor

Music Composer

Producer

Co-Producer

Costume Design

Line Producer

Make-Up

Production Designer

Production Manager

Re-recording Mixer

Sound Design
About the film
Type

Feature Film

National Premiere Date

October 12, 2018, Smárabíó

International Premiere Date

October 6, 2018, Busan International Film Festival

Genre

Drama

Length

105 min.

Language

Icelandic, English, Estonian

Original Title

Undir halastjörnu

International Title

Mihkel

Production Year

2018

Production Countries

Iceland, Norway, Estonia

IMDB

Website

Icelandic Film Centre Grant

Yes

Production Format

Arri Alexa

Aspect Ratio

1.85:1

Color

Yes

Sound

Dolby Digital

Screening format and subtitles

DCP, English subtitles.
Cast
Main Cast

Supporting Cast
Company Credits
Production Company

Co-Production Company

Supported by
Festivals
2018

Busan International Film Festival

2018

Warsaw Film Festival
---
---