---
Country Wedding
Ingibjorg, the bride, and Bardi, the groom, have decided to get married after living together for three years. The ceremony is to be held in a small church, an hour's drive from Reykjavik. Ingibjorg wants to keep to the tradition of not letting the groom see the bride dressed in white until at the ceremony. Therefore, Ingibjorg, Bardi and the guests – family and close friends and not so close unwelcome friends, drive off in two buses with champagne and a wedding cake. No one knows exactly where this country church is located except for Bardi, who got the direction from the priest over the phone. It had sounded rather straight forward that is straight ahead, down the road leaving out some turns. However, Bardi is claustrophobic and the convoy cannot take the normal route through the tunnel under the Whale fjord. After driving for hundreds of miles around the fjord they are running out of time and decide to take a short cut. After some further driving they discover that they are lost.
Where to watch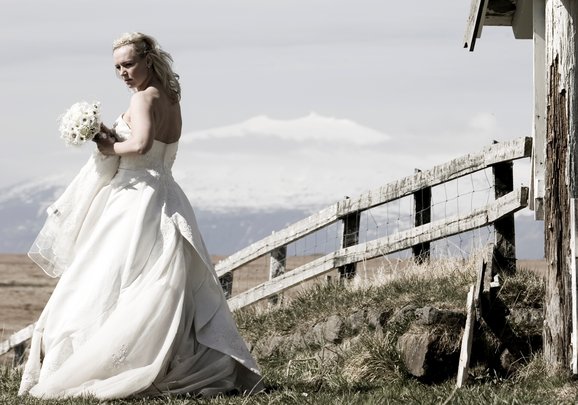 Crew
Directed by

Screenplay

Director of Photography

Editor

Music Composer

Producer

Co-Producer

Advisor

Assistant Director

Assistant Editor

Camera

Camera Assistant

Color Grader

Costume Design

Executive Producer

Foley

Hair Stylist

Location Manager

Make-Up

Post-production Sound Assistant

Post-production Supervisor

Production Assistant

Publicist

Re-recording Mixer

Script Supervisor

Singing Voice

Sound Design

Sound Recordist

Stills Photography

Titles

Translation

Visual Effects
About the film
Type

Feature Film

National Premiere Date

August 28, 2008

Genre

Comedy, Drama

Length

95 min.

Language

Icelandic

Original Title

Sveitabrúðkaup

International Title

Country Wedding

Production Year

2008

Production Countries

Iceland, England

IMDB

Icelandic Film Centre Grant

Yes

Production Format

HDV

Aspect Ratio

1.85:1

Color

Yes

Sound

Dolby

Screening format and subtitles

35mm film with English sub. - DigiBeta with English sub.
Cast
Main Cast

Supporting Cast

Herdís Þorvaldsdóttir

,

Nína Dögg Filippusdóttir

,

Þröstur Leó Gunnarsson

,

Kristbjörg Kjeld

,

Theódór Júlíusson

,

Ágústa Eva Erlendsdóttir

,

Hanna María Karlsdóttir

,

Sigurður Sigurjónsson

,

Rúnar Freyr Gíslason

,

Ólafur Darri Ólafsson

,

Árni Pétur Guðjónsson

,

Víkingur Kristjánsson

,

Erlendur Eiríksson

,

Ingvar E. Sigurðsson

,

Auður Eysteinsdóttir

,

Úlfur Eysteinn

,

Karl Jóhann Guðmundsson

,

Gísli Örn Garðarsson

,

Caroline Dalton

,

Sigurður Rúnar Sævarsson

,

Tinna Hrafnsdóttir

,

Hreinn Beck

,

Árni Filippusson

,

Davíð Óskar Ólafsson

,

Christopher Ripley

,

Eysteinn Eysteinsson

,

Halldór Ingi Hákonarson

,

Ingimundur Óskarsson
Company Credits
Production Company

Supported by
Festivals
2014

Göteborg International Film Festival

2012

Images from the Edge: Classic and Contempory Films from Iceland, Lincoln Center, New York

2011

Urania, Nordic Film Festival in Vienna

2010

Off Plus Camera, Poland

2010

Taste of Iceland

2009

Palm Springs International Film Festival

2009

Scandinavian Film Festival, USA

2009

Berlin International Film Festival/Market

2009

Istanbul Independent Film Festival

2009

Adelaide Film Festival

2009

Sofia International Film Festival

2009

Hong Kong International Film Festival

2009

Febiofest, Czech Republic

2009

CPH PIX 2009, Denmark

2009

Miami Gay & Lesbian Film Festival

2009

Verona Film Festival

2009

David Film, Mexico

2009

Scandinavian House, USA

2009

Transylvania International Film Festival

2009

Munich International Film Festival

2009

Brussels Film Festival, Brussel,

2009

Stony Brook Film Festival, USA

2009

Espoo Cine International Film Festival

2009

Riga Nordic Film Days

2009

Scanorama, Lithuania

2009

European Film Festival, Spain

2009

Noordelijk Film Festival

2008

Toronto International Film Festival

2008

Pusan International Film Festival

2008

Festival International du Film de Marrakech

- Award: Nominated for the Golden Star

2008

Göteborg International Film Festival

2008

International Film Festival Abu Dhabi

2008

London BFI Film Festival

2008

Antalya International Film Festival

2008

Chicago International Film Festival

2008

American Film Market, USA

2008

Edduverðlaunin / Edda Awards
---
---