---
And Breathe Normally
At the edge of Iceland's Reykjanes peninsula, a quiet and unassuming Keflavik airport rests, surrounded by vast volcanic landscape and the periodic soaring of an airplane. It is here that Adja, a refugee from Guinea-Bissau on route to Canada, finds herself stranded when stopped by a border patrol officer during a layover. It so happens that one of these border patrol officers is Lara, herself a struggling young mother, on the verge of homeless, whilst in-training to become a guardian of the law. As destiny will have it, these women's paths will continue to cross in the small Icelandic town, culminating in the formation of an unlikely bond.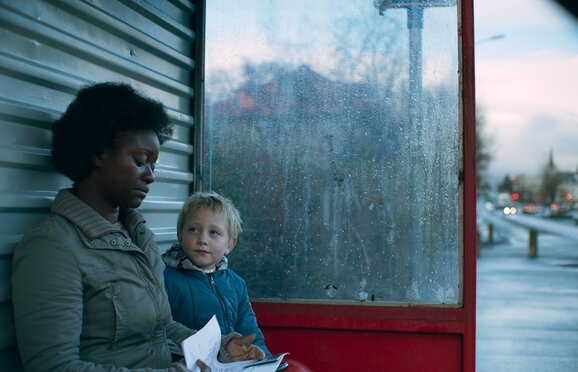 Crew
Directed by

Screenplay

Director of Photography

Editor

Music Composer

Producer

Co-Producer

Casting by

Line Producer

Make-Up

Production Designer
About the film
Type

Feature Film

National Premiere Date

March 9, 2018, Háskólabíó

International Premiere Date

January 22, 2018, Sundance Film Festival

Genre

Drama

Length

95 min.

Language

Icelandic, English

Original Title

Andið eðlilega

International Title

And Breathe Normally

Production Year

2018

IMDB

Icelandic Film Centre Grant

Yes

Production Format

2K Color

Aspect Ratio

2.35:1

Color

Yes

Sound

Dolby Digital

Screening format and subtitles

DCP with English subtitles.
Cast
Main Cast

Supporting Cast
Company Credits
Production Company

Co-Production Company

Supported by

International sales
Festivals
2019

Melbourne Queer Film Festival

2019

Espoo International Film Festival

2018

Sundance Film Festival

- Award: Best Director (Ísold Uggadóttir) in World Cinema competition.

2018

Göteborg Film Festival

- Award: FIPRESCI Award.

2018

Summer Film School

2018

Aspen Film Festival

2018

Vancouver International Film Festival

2018

Bridge of Arts IMFF

2018

Nordic Film Days St. Petersburg

2018

Savannah Film Festival

2018

Key West Film Festival

2018

Kerala International Film Festival

2018

Istanbul Film Festival

2018

Stockholms Feministiska Filmfestival

2018

Karlovy Vary International Film Festival

2018

Art Film Fest Košice

2018

Provincetown Film Festival

- Award: HBO Audience Award.

2018

Melbourne International Film Festival

2018

Jerusalem Film Festival

2018

New Zealand International Film Festival

2018

New Horizons International Film Festival

2018

Traverse City Film Festival

- Award: Roger Ebert Award.

2018

Athens International Film Festival

- Award: Audience Award.

2018

Queer Screen Film Festival, Sydney, Australia

- Award: Audience Award.

2018

Faroe Islands Minority Film Festival

- Award: Best Film.

2018

Queer Lisboa

- Award: Best Actress (Kristín Thora Haraldsdóttir).

2018

Hamptons International Film Festival

- Award: Brizzolara Family Foundation Award.

2018

Nordic Film Days Lübeck, Germany

2018

Scanorama European Film Forum, Lithuania

2018

Mannheim-Heidelberg International Film Festival, Þýskaland

2018

Duhok International Film Festival, Írak

2018

Mumbai International Film Festival

2018

Panorama of the European Film, Egyptaland

2018

International Film Festival of Indland, Goa

2018

San Francisco International LGBT Film Festival

2018

Almaty Film Festival, Kazakhstan

2018

Noordelijik Film Festival, Holland

- Award: Award for Special Contribution to Northern Cinema

2018

Tallinn Black Nights Film Festival

2018

AFI Fest, Bandaríkin

2018

Austin Film Festival, Bandaríkin

2018

Philadelphia Film Festival

2018

Frameline, San Francisco

2018

Bergen International Film Fest

2018

Norwegian International Film Festival, Haugesund

2018

CPH PIX, Denmark

2018

Orcas Island Film Festival, Bandaríkin

2018

Ostend Film Festival, Belgía

2018

Leiden International Film Festival, Holland

2018

Noordelijk Film Festival, Holland

2018

Scanorama European Film Forum
---