---
Megas and Grimur - The Punkmeister and the Pietist
Megas (Magnus Þór Jónsson, 1945) occupies a central place in Iceland as a singer, songwriter and writer. Influenced by rock and roll and folk music, his work is also deeply rooted in classical Icelandic poetry.

He has, in particular, had a lifelong interest in the Hymns of the Passion by Hallgrimur Petursson (1614-1674) whose baroque poetry holds a special place in Icelandic culture and is solemnly recited at the radio every Easter.

In the seventies, Megas composed music to all of the 50 Hymns of Hallgrimur and interpreted them in his unique way. This could be compared to someone like Tom Waits putting music to Milton's Paradise Lost or John Donne's poems.

In the documentary Megas and Grimur, Megas explains what he finds fascinating about Hallgrimur's 17th century's poetry, how Iceland's "punkmeister" found common ground with the pietist of old. Various collaborators of Megas describe his way of working, and we hear him discussing the Hymns with his uncle, Nobel Prize author Halldor Laxness. The composer Thordur Magnusson, son of Megas, also describes how he worked on the arrangements of the Hymns in collaboration with his father and conductor Hilmar Orn Agnarsson. Young girls who were members of one of the choirs relate how the 17th Century's poems resonated with them.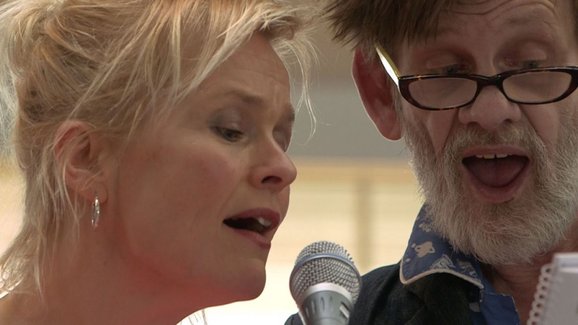 Crew
Directed by

Screenplay

Director of Photography

Editor
About the film
Type

Documentary

National Premiere Date

March 24, 2016

Length

60 min.

Language

Icelandic

Original Title

Megas og Grímur

International Title

Megas and Grimur - The Punkmeister and the Pietist

Production Year

2016

Production Countries

Iceland

Premiere TV Channel

RÚV

Icelandic Film Centre Grant

Yes

Production Format

HD

Aspect Ratio

16:9

Color

Yes

Sound

Stereo
Company Credits
Production Company

Supported by
---