---
Pale Star
Pale Star is about the possessiveness of love. About how that possession peels back to expose power and control until we can see, in its dark heart, not love but murder.

The tragedies of two couples' lives collide against the dramatic black landscapes of southern Iceland. Solveig kills her husband in a fight about his abuse of their daughter Dis. Molly, a tourist, flees the abuse of her drunken husband, Kurt. Molly arrives at Solveig's isolated house and, to begin with, is given shelter.

Things begin to unravel when sickly and comatose Kurt is also brought to Solveig's. Solveig offers to help Molly with her problem husband. Molly has no idea about the direction this "help" is going to take. She makes a fundamental error which will lead to more deaths and, finally, to an understanding of Dis' fate.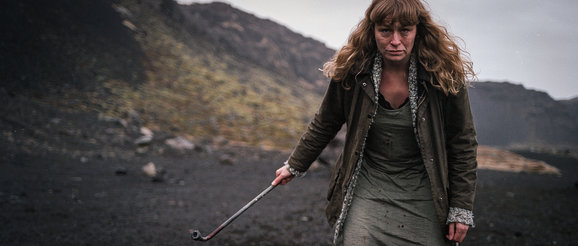 Crew
Directed by

Screenplay

Director of Photography

Editor

Music Composer

Producer
About the film
Type

Feature Film

International Premiere Date

June 22, 2016, Edinburgh International Festival

Genre

Thriller, Drama

Length

80 min.

Language

Icelandic

Original Title

Pale Star

International Title

Pale Star

Production Year

2016

Production Countries

Iceland, United Kingdom, Scotland

IMDB

Icelandic Film Centre Grant

No

Production Format

HDV

Aspect Ratio

16:9

Color

Yes

Screening format and subtitles

DCP
Cast
Main Cast

Supporting Cast
Company Credits
Production Company

International sales
Festivals
2016

International Film Festival of India

2016

Edinburgh International Festival
---