---
TIME AND TIME AND AGAIN
"Notions of time are always compelling. I read what comes my way about physics and mathematics, but I read as one who is uninitiated. The feeling and the interest in the essence of time is serious, but my dealing with time is not knowledge-based; it is more exploratory and feeling-based."
Hreinn Fridfinnsson

Time and Time and Again tells the story of three people living separate lives but are all
connected by a cosmic web; two artists and a scientist. Based on the life and work of
conceptual artist Hreinn Friðfinnsson, the film explores the elusive nature of time and
memory, past and present. Working in the Laboratory of Time in Finland, the scientist Aika
reveals the background story of an experiment, where twin boys were separated at an early
age and left to grow up apart in two places. As it turns out they have aged differently, due to
their separate relation to gravity; the younger twin lives in the mountains of Iceland and the
older twin down by the ocean in Amsterdam. Both have dedicated their lives to making art.

Time and Time and Again is an attempt to merge a creative documentary with experimental
filmmaking. It is the result of an extensive research by the filmmakers (an artist and curator)
into the nature of the work of an inspiring artist. Friðfinnsson himself 'plays' a leading role as
the older twin, delivering quite a truthful documentation of his every day life in Amsterdam.
Aika is interpreted by the Finnish actress, Kati Outinen, the catalyst of this real-life fiction. The
younger twin is 'acted' by Friðfinnsson's studio assistant, who in reality creates much of the
artist's work in close collaboration with him. The story suggests an unconfirmed suspicion or
doubt within each person that the others really exist. Without delivering a final conclusion, the
film plays with the idea that the twins are actually one and the same person in past and
present.

The laws of linear time are put to the test and the narrative approach is different for each of
the three characters, underlined by distinct choices in filmic style as well as interpretation of
time and place. In the Time Lab as Aika conducts her routine follow-up on the separated twin
brothers, she realises that reuniting them may bring about a major breakthrough in her
research. We follow several months in the life of the younger twin as he makes different time
related art experiments, urged on by anonymous letters. We follow a single day in the life of
the older twin who is stuck in his apartment trying to solve the annoying problem of his frozen
computer. Will it be possible to bring the two artists together and what might come out of it?

The film will accompany an exhibition of Hreinn Fridfinnsson's work, launched in the Living Art
Museum in Reykjavík in May 2014.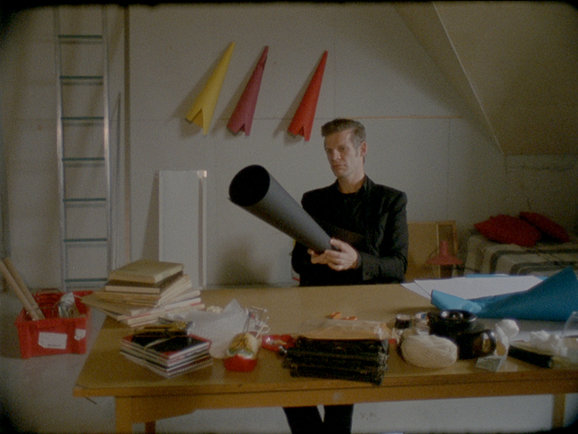 Crew
Directed by

Screenplay

Director of Photography

Producer

Co-Producer
About the film
Type

Documentary

National Premiere Date

April 5, 2014

International Premiere Date

February 1, 2014, Docpoint - Helsinki Documentary Film Festival

Genre

Experimental

Length

60 min.

Language

Finnish, Icelandic, English

Original Title

æ ofaní æ

International Title

TIME AND TIME AND AGAIN

Production Year

2014

Production Countries

Iceland, Finland

Icelandic Film Centre Grant

Yes

Production Format

16mm

Color

Yes

Screening format and subtitles

HD
Company Credits
Production Company

Co-Production Company

Supported by
Festivals
2015

Göteborg Film Festival

2014

Docpoint - Helsinki Documentary Film Festival
---