---
Either Way
In the remote north of Iceland in the 1980s, Finnbogi and Alfred spend the summer painting lines on the winding roads that stretch out to the horizon. The older and more experienced of the two, Finnbogi, has been asked to do his girlfriends´ family a favor and get her younger brother, Freddi, a job with the Road Administration as well; Take him along for the summer and make a man out of him. The film follows the relationship of these different – almost opposite – characters in the remote wilderness where they must deal with and tolerate each other peculiarities, spending way more time together than either of them would ever choose to do.

It isn't until after some turbulent events occur that they start appreciating each other's company and they start developing friendship. Through the course of the story their inner characters and secrets gradually come to the surface and at the end both men are certainly at crossroads in their lives. And maybe that's what they both need?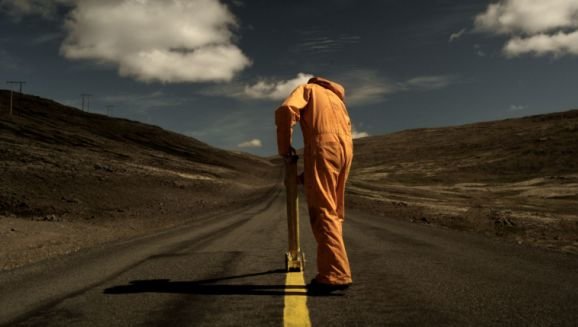 Crew
Directed by

Screenplay

Director of Photography

Editor

Producer

Based on a Story by

Best Boy

Camera Assistant

Color Grader

Costume Design

Costume Supervisor

Dialogue Editor

Gaffer

Graphic Design by

Hair Stylist

Lyrics by

Make-Up

Post-production Supervisor

Production Assistant

Production Designer

Props

Publicist

Sound

Sound Editor

Sound Recordist

Titles

Underwater Photography

Visual Effects
About the film
Type

Feature Film

National Premiere Date

September 2, 2011

Genre

Drama, Comedy

Length

84 min.

Language

Icelandic

Original Title

Á annan veg

International Title

Either Way

Production Year

2011

Production Countries

Iceland

IMDB

Website

Icelandic Film Centre Grant

Yes

Production Format

RED

Aspect Ratio

2.39:1

Color

Yes

Sound

Dolby Surround

Screening format and subtitles

DCP with English sub. -
Cast
Main Cast

Supporting Cast
Company Credits
Production Company

Supported by
Festivals
2016

Premiers Plan - Angers Festival, Frakkland

2016

Ultima Thule, Pólland

2015

Iceland Sounds & Sagas, Turku, Finnlandi

2014

Pluk de Nacht Open Air Film Festival

2014

Avvantura Festival Film Forum Zadar

2014

International House Philadelphia

2013

Galeries, Belgium

2013

Transatlantyk Festival, Poznan, Poland

2013

The Northern Film Festival, Leeuwarden, Holland

2013

Glasgow Film Theatre, Scotland

2013

Tokyo Northern Lights Film Festival, Japan

2013

Cinenordica, Paris, France

2013

Ales Film Festival, France

2013

Wisconsin Film Festival, USA

2013

Icelandic Films, Copenhagen, Denmark and Aarhus, Denmark

2012

Scanorama European Film Forum

2012

IFF East & West, Orenburg, Russia

2012

Arras International Film Festival, Arras, France

2012

Scandinavian Film Festival L.A, California

2012

Göteborg International Film Festival, Sweden

2012

Internationales Filmwochenende Würzburg, Germany

2012

Images from the Edge: Classic and Contemporary Films from Iceland,New York, USA

2012

Izmir Film Festival, Turkey

2012

Seattle International Film Festival, USA

2012

The Norwegian Internatiional Film Festival Haugesund, Haugesund, Norway

2012

Olhar de Cinema - Curitiba International Film Festival, Brazil,

2012

Helsinki International Film Festival, Helsinki, Finland

2012

Edinburgh International Film Festival, UK

2012

Detour International Travel Film Festival, Padova, Italy

2012

Transilvania International Film Festival, Romania

2012

Friars Club Comedy Film Festival, New York, USA

2012

Karlovy Vary International Film Festival, Karlovy Vary, Czech Republic

2012

Montreal World Film Festival, Canada

2012

Molodist Kyiv International Film Festival, Kyiv, Ukraine

2012

Exposed Festival for First Films, Cologne, Germany

2012

SUBTITLE European Film Festival, Icelandic New Wave, Ireland

2012

4 Steps into the Great North - Icelandic Days, Rome, Italy

2011

San Sebastian Film Festival

- Award: In competion for the Kutxa-New Directors Awards.

2011

Nordische Filmtage Lubeck

- Award: Baltic Film Prize.

2011

Thessaloniki International Film Festival

2011

Tallinn Black Nights Film Festival

- Award: Tallinn Black Nights Film Festival's Opening Film.

2011

Torino Film Festival

- Award: Best picture. Best script.

2011

Nordlichter XII, Dresden

????

Edduverðlaunin / Edda Awards

- Award: Actor of the Year in a Supporting role (Thorsteinn Bachmann). Cinematography of the Year (Árni Filippusson). Costume Design of the Year (Margrét Einarsdóttir, Eva Vala Gudjónsdóttir). Nominated for Feature Film of the Year. Nominated for Director of the Year . Nominated for Script of the Year (Hafsteinn Gunnar Sigurdsson). Nominated for Actor of the Year (Hilmar Gudjónsson, Sveinn Ólafur Gunnarsson). Nominated for Editor of the Year (Kristján Loðmfjörð). Nominated for Sound Design of the Year (Huldar Freyr Árnason). Nominated for Set Design of the Year (Hálfdán Pedersen).
Cinema distribution
Iceland

Háskólabíó, 2011

Iceland

Borgarbíó, Akureyri, 2011
---