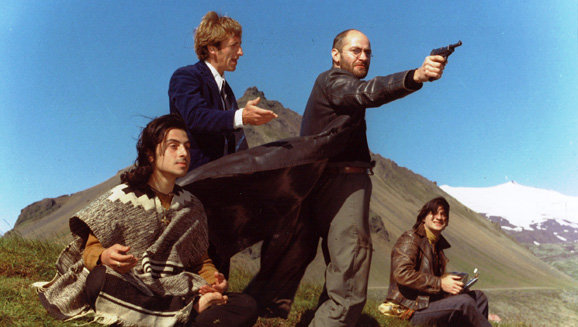 Under the Glacier
Under the Glacier
Under the Glacier
This is the story of a spiritual and physical odyssey, comic and strange, made by a young theological student.
Synopsis
Our hero is Umbi (an acronym for emissary of the bishop), sent by him to undertake an important investigation at Snæfell-glacier. In particular he is to look into the conduct and behavior of Jón Prímus, the old pastor at Snæfell. Fantastic rumors are rife: amongst other things it is said that a corpse is lodged in the glacier! Armed with his tape recorder and notebook, Umbi embarks upon his mission. He tries to question the weird locals, a weird lot, but gets evasive answers. Slowly he is dragged into a quagmire of strange happenings and his efforts to understand only make him confused. If at the beginning he is a chipper, a mere device, by the end of the story he is inextricably involved, a committed participant in the bizarre events.
About the film
Type: Feature Film
National Premiere Date: February 25, 1989
Genre: Drama, Drama
Length: 91 min.
Language: Icelandic
Original Title: Kristnihald undir jökli
International Title: Under the Glacier
Production Year: 1989
Production Countries: Iceland
IMDB: Under the Glacier
Icelandic Film Centre Grant: Yes
Based on a : Novel
Production Format: 35mm
Aspect Ratio: 1.66:1
Color: Yes
Sound: Dolby Stereo SR
Screening format and subtitles: 35mm film with English sub. -
Crew
Cast
Company Credits
Festivals
Academy Awards - Award: The Icelandic entry for best foreign language film.
Television distribution
Iceland: RÚV, 1991
Iceland: RÚV, 1992
Releases
Bergvík, 2000 - mynddiskur (DVD)
Bergvík, 1994 - myndsnælda
Námsgagnastofnun, 1989 - myndband