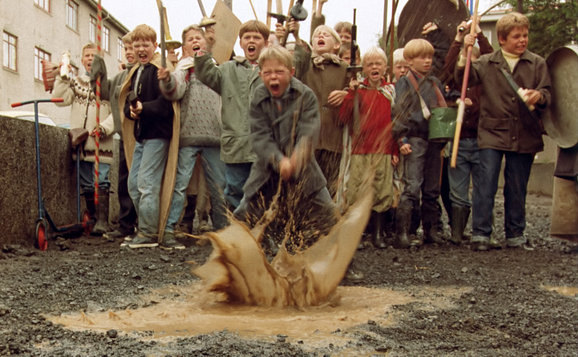 Movie Days
Funny tales of Thomas, boy coming of age, discovering Russian spies, Icelandic ghosts, Roy Rogers, The Crawling Hand, Adolf Hitler, sheep-eating hermits, Jesus Christ, the US Army, perverts on wheels, Iceland's only Hollywood star, great storytellers, and funerals.
Synopsis
Movie Days is a comedy set in the early sixties and based on Fridrik Thor Fridrikssons own childhood memories, a time when Icelandic society underwent a period of great turbulence and change. At the same time, American movies and television gave the period a special atmosphere, filled with enchantment and romance that distracted many people from the drabness of their everyday existence. Thomas is submerged in and fascinated by the imaginary world of the cinema, but eventually has to come to terms with his own culture and reality.

Movie Days is, along with Children of Nature (1991) and Angels of the Universe (2000), a great sample of the good co working between Fridrik Thor and the writer Einar Már Gudmundsson.
About the film
Type: Feature Film
National Premiere Date: June 28, 1994
Genre: Drama
Length: 82 min.
Language: Icelandic
Original Title: Bíódagar
International Title: Movie Days
Production Year: 1994
Production Countries: Iceland, Germany
IMDB: Movie Days
Icelandic Film Centre Grant: Yes
Production Format: 35mm
Aspect Ratio: 1.66:1
Color: Yes
Sound: Dolby
Screening format and subtitles: DCP with; English sub. - Betacam SP without sub. -
Crew
Cast
Company Credits
Festivals
´North Atlantic Film Days, 2018
Razor Reel Flanders Film Festival, 2018
Göteborg International Film Festival, 2014
Febiofest, Prague, 2011
Artfilmfest International Film Festival, 2010
Yerevan International Film Festival, 2010
Summer Film School, 2010
Plus Camerimage Film Festival, 2009
Göteborg Film Festival, 1995
Yubari Fantastic Film Festival, 1995
Portland Film Festival, 1995
Dublin Film Festival, 1995
Nordic Film Festival, 1995
Cleveland Film Festival, 1995
Istanbul Film Festival, 1995
Rivertown Film Festival, 1995
Philadelphia Film Festival, 1995
Cannes Junior, 1995
Seatlle Film Festival, 1995
Troja Film Festival, 1995
Midnight Sun Film Festival, 1995
St. Petersburg Film Festival, 1995
Cambridge Film Festival 1995, 1995
Galway Film Festival, 1995
Academy Awards, 1995 - Award: Iceland´s Entry for Best Foreign language Film.
Mamers Film Festival, 1995 - Award: Best Film.
Festival de Laon, 1995 - Award: Grand Prix.
The World Film Festival Montreal, 1994
Toronto International Film Festival, 1994
Sudbury International Film Festival, 1994
Copenhagen Film Festival, 1994
Hamburg Film Festival, 1994
The Vancouver International Film Festival, 1994
Cork Film Festival, 1994
The Chicago International Film Festival, 1994
Sao Paolo International Film Festival, 1994
London Film Festival, 1994
Puerto Rico International Film Festival, 1994
Cinemagic International Film Festival For Young People, 1994
The Nordic Amanda, 1994 - Award: Best Scandinavian Film of the Year.
Nordische Filmtage Lubeck, 1994 - Award: Balticum Prize
Locarno International Film Festival, 1994 - Award: Nominated for Golden Leopard.
Television distribution
Iceland: RÚV, 1997
Iceland: RÚV, 1998
Releases
Sena, 2008 - DVD
Íslenska kvikmyndasamsteypan, 1995 - VHS