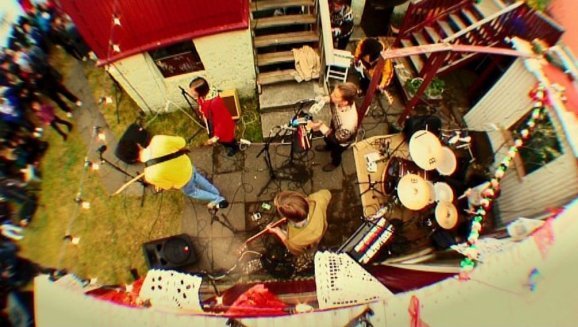 Backyard
A DIY backyard concert turns into one of the most exciting and intimate music events of the year. With some of the most celebrated bands coming out of Reykjavík right now, including Múm, FM Belfast, Hjaltalín and Sin Fang Bous.
Synopsis
A guy named Árni Rúnar had the idea of gathering a few bands together in his backyard to do some live recording. His idea evolved into this film. He filled his little shack of a studio with equipment and prayed for good weather. He invited all of his neighbours and made them pizza, cupcakes and pancakes. And then many of the most exciting Icelandic musicians of their generation showed up to play, giving us a unique look at the diverse music scene of Reykjavík in the summer of 2009.
About the film
Type: Documentary
National Premiere Date: May 23, 2010
Length: 69 min.
Language: Icelandic
Original Title: Backyard
International Title: Backyard
Production Year: 2010
Production Countries: Iceland
Website: http://www.backyardthefilm.com
Icelandic Film Centre Grant: No
Color: Yes
Crew
Cast
Company Credits
Festivals
Eurosonic, Groningen, 2015
Avvantura Festival Film Forum Zadar, 2014
Iceland Sounds & Sagas, 2014
Play Nordic, 2014
Musikfilm Festivalen, Copenhagen, Denmark, 2013
Grossmann 8th Fantastic Film and Wine Festival, Ljutomer, Slovenia, 2012
REC Festival Internacional de Cinema de Tarragona, Tarragona, Spain, 2012
Braunschweig Universum - Filmtheater, Germany, 2012
Glasgow Film Festival, Glasgow, UK, 2012
Festival of Music Documentaries DORF Vinkovci, Croatia, 2012
MusiXine Oule Film Festival, Oulu, Finland, 2012
Seattle International Film Festival, 2011
Karlovy Vary International Film Festival, 2011
Transatlantyk - Poznan International Film Festival, 2011
Film Forum Zadar International Film Festival, 2011
Athens International Film Festival, 2011
Helsinki International Film Festival, 2011
Pop Montreal International Music Festival, 2011
Kino Pod Baranami, 2011
Kamerton Poland, 2011
Filmfest Hamburg, 2011
Bergen International Film Festival, 2011
Kassel Documentary Film and Video Festival, 2011
Noordelijk Film Festival, 2011
Scanorama European Film Forum, 2011
Festival dei Popoli, 2011
Skjaldborg, 2010 - Award: Audience Award for Best Film
CPH: DOX, 2010 - Award: Sound & Vision Award Special Mention.