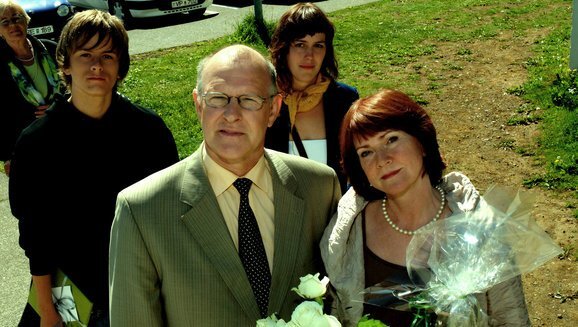 Family Reunion
Family Reunion
Family Reunion
New York artist Katrin struggles to come out to her relatives back in Iceland, but revelations at a family reunion challenge all her assumptions.
Synopsis
Family Reunion is a modern-day coming out story about a young Icelandic woman living two separate lives. In Family Reunion Katrín, a sculptor in NYC is headed from grungy Chinatown back to pristine Iceland for her grandfather's 70th birthday.

Katrín's family members in Iceland are beside themselves with excitement over the daughter's expected return, not to mention the arrival of the highly popular American goods they've requested. Katrín will soon find herself reunited with her family who enthusiastically engage her in discussions about marriage, children and her future. Katrín must decide whether to continue leading her dual life or risk outraging her family by revealing her true self. Little does she know that her family is about to reveal a secret of its own.
About the film
Type: Short Film
National Premiere Date: October 1, 2006
Genre: Drama
Length: 19 min.
Language: Icelandic, English
Original Title: Góðir gestir
International Title: Family Reunion
Production Year: 2006
Production Countries: Iceland
IMDB: Family Reunion
Website: http://www.no9productions.com
Icelandic Film Centre Grant: Yes
Production Format: Super 16mm
Aspect Ratio: 1.66:1
Color: Yes
Sound: Stereo
Crew
Cast
Company Credits
Festivals
Festival Tous Courts, Aix-en-Provence, Frakklandi, 2015
Interfilm Berlin, International Short Film Festival, Berlin, Germany,, 2012
Go Short International Short Film Festival Nijmegen, 2009
Kratkofil Short Film Festival, 2009
Copenhagen Gay and Lesbian Film Festival, 2009
Nordic Heritage Museum, 2009
Nordic Fiction Short, 2008 - Award: Nominated for the Nordic Independent Film Awards
Brisbane Queer Film Festival, 2008
Uppsala International Pride Film Festival, 2008
Verzaubert In´l Queer Film Festival Munchen Frankfurt Köln Berlin, 2008
10th International Women´s Film Festival in Seoul Korea, 2008
International Female Film Festival Malmö, Sweden, 2008
Aarhus International Film Festival, Istanbul, Turkey, 2008
8, Muestra Internacional Del Cine GLBT, Valladolid, Spain, 2008
Filmmor Women´s Film Festival, Istanbul, Turkey, 2008
Melbourne Queer Film Festival, Australia, 2008
Post Alley Film Festival Women in Film, Seattle, 2008
zinegoak, Bilbao, 2008
Locarno International Film Festival, 2007
Karlovy Vary International Film Festival, 2007
Sundance Film Festival, 2007
Norwegian International Film Festival, 2007
Identities Film Festival, 2007 - Award: Audience Award, Best Short Film
Atlanta Film Festival, 2007 - Award: Grand Jury Prize for Best short Film
Copenhagen Gay and Lesbian Film Festival, 2007 - Award: Best Short Film
Rhode Island International Film Festival, 2007 - Award: First Place for Alternative Spirit
Tabor Film Festival, 2007 - Award: Special Mention
North Carolina GL Film Festival, 2007 - Award: Best Women's Short
Athens International Film + Video Festival, 2007 - Award: 3rd Prize for Narrative Film
Tel Aviv International LGBT Film Festival, 2007 - Award: Best Narrative International Short Film
Connecticut LGBT Film Festival, 2007 - Award: 2nd Place, Jury Award
Image + Nation le festival de cinéma LGBT de Montréal, 2007
Reykjavík to Rotterdam Holland, 2007
Prague Short Film Festival, 2007
Holebi Leuven, Belgium, 2007
Indianapolis Gay and LEsbian Film Festival, 2007
Cucalorus Film Festival, 2007
Chicago Gay and Lesbian Film Festival, 2007
Queersicht Film Festival, Bern, Switzerland, 2007
West County Film Festival, Ca, 2007
Tallgrass film Festival, Kansas, 2007
Cork Film Festival, Ireland, 2007
51st BFI London Film Festival, 2007
Feminist Film Festival, Paris, France, 2007
Hamburg International LGBT film Festival, 2007
Sacramento GL Film Festival, 2007
Reel Affirmations, Washington DC, 2007
Tampa GL Film Festival, 2007
New Mexico, LGBT Film Festival, 2007
Austin GL Film Festival, 2007
Fresno Film Festival, 2007
Los Angeles Shorts Fest, 2007
Sao Paulo International Short film Festival, Brazil, 2007
Landlocked Film Festival, Iowa City, 2007
Dokufest, International Documentary & Short Film Festival, Kosovo, 2007
Gimli Film Festival, Manitoba, Canada, 2007
Amani Great Lakes Film Festival, Rwanda, Africa, 2007
Giffoni, Italy, 2007
Philadelphia LGBT Film Festival, 2007
Tokyo LGBT Film Festival, 2007
Budapest LGBT Film Festival, 2007
Provincetown International film Festival, 2007
Newfest, New York, 2007
Newport International Film Festival, 2007
Sundance Films at the BAM, Brooklyn, New York, 2007
Winnipeg International Film Festival, Canada, 2007
Brooklyn International Film Festival, Canada, 2007
Seattle International Film Festival, 2007
Connecticut LGBT Film Festival, 2007
Reykjavik Shorts & Docs, Reykjavik, Iceland, 2007
Inside Out, Toronto, Canada, 2007
Boston LGBT Film Festival, 2007
Miami LGBT Film Festival, 2007
Shout Alabama Film Festival, 2007
Indianapolis International Film Festival, 2007
Nashville Film Festival, 2007
Edduverðlaunin / Edda Awards, 2006 - Award: Nominated for Short Film of the Year.
Reykjavik International Film Festival, 2006
Palm Springs International Festival of Short Films, 2006
Outfest, 2006
Frameline Film Festival, 2006
Releases
Wolfevideo, 2008 - DVD (She Likes Girls 2)
No 9 Productions, 2006 - DVD