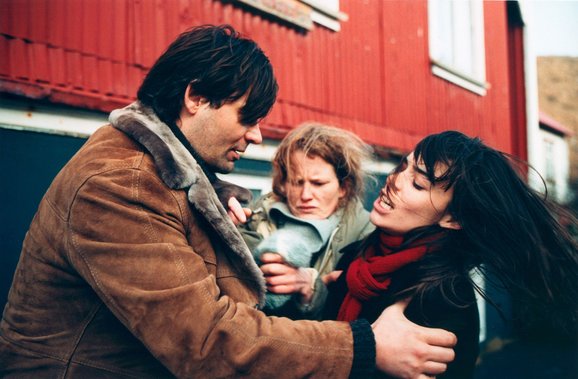 Stormy Weather
Stormy Weather
Stormy Weather
In Stormy Weather, Icelandic director Solveig Anspach explores the close relationship between a psychiatrist, Cora and a mysterious, uncommunicative patient, Cora, who is given to sudden and violent tantrums. When Cora is transferred back to a small isolated island in Iceland, Dora follows her, and a series of traumatic events unfold.
Synopsis
The psychiatry department of young doctor Cora has just admitted a young lady who refuses to speak and whose identity remains unknown. Cora becomes fond of her patient and establishes a relationship which goes beyond the usual course of treatment. She feels a kind of "call" from this woman as a strange and strong tie grows between them. One day, Cora learns that the identity of her patient has been discovered. Her name is Loa, she is a stranger, she has been sent back home to Iceland. Cora, who had no idea of this woman's life outside their relationship, is deeply moved; she decided to meet up with her in order to finish the treatment.
About the film
Type: Feature Film
National Premiere Date: September 18, 2003
Genre: Drama
Length: 93 min.
Language: French, Icelandic
Original Title: Stormviðri
International Title: Stormy Weather
Production Year: 2003
Production Countries: Iceland, France, Belgium
IMDB: Stormy Weather
Icelandic Film Centre Grant: Yes
Aspect Ratio: 1.85:1
Color: Yes
Sound: Dolby Stereo
Crew
Cast
Company Credits
Festivals
Ultima Thule, ýmsir sýningarstaðir, Pólland, 2016
ARTscape, Lithuania, 2011
Istanbul International Film Festival, 2004
Shanghai International Film Festival, 2004
Tokyo International Film Festival, 2004
Cannes International Film Festival, 2003 - Award: Un Certain Regard.
London Film Festival, 2003
Montreal International Festival of New Cinema, 2003
Namur International French-language Film Festival, 2003
Prague-French Film Festival, 2003
Stockholm International Film Festival, 2003
Toronto International Film Festival, 2003
Edduverðlaunin / Edda Awards, 2003 - Award: Actress of the Year in a Leading Role. (Sigurlaug Jónsdóttir-Didda). Nominated for Feature Film of the Year. Nominated for Actress of the Year in a Leading Role (Elodiez Bouchez).
Releases