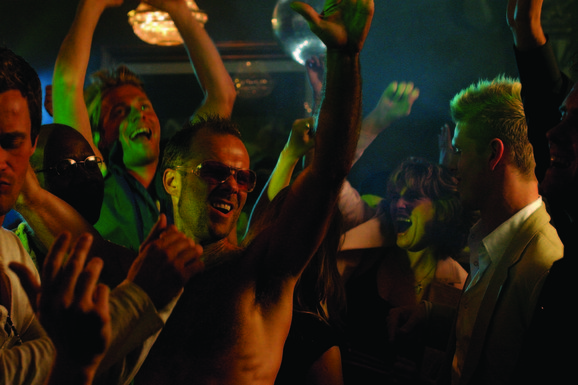 Eleven Men Out
Eleven Men Out
Eleven Men Out
An all gay football team in an amateur football league get the chance of a lifetime when they have the opportunity to play against the big guns. Priscilla Queen of the Desert meets Ken Loach in Iceland.
Synopsis
Ottar Thor is a champion soccer star, handsome and arrogant, who after winning a game casually tells a journalist he's gay. Imagine the surprise to his wife, a former Miss Iceland, his teenage son, already sullen and troubled, and his father, Thor's macho coach.

Much to the chagrin of his family, Ottar exchanges one sort of domesticity for another. After choosing a same-sex partner, he is kicked off the championship team where players are presumably straight. But, once a player, always a player and Ottar accepts a spot on a team in a basement soccer league that gay sportsmen from all over Iceland soon insist on joining.
About the film
Type: Feature Film
National Premiere Date: September 2, 2005
Genre: Comedy, Drama
Length: 86 min.
Language: Icelandic
Original Title: Strákarnir okkar
International Title: Eleven Men Out
Production Year: 2005
Production Countries: Iceland, Finland, United Kingdom
IMDB: Eleven Men Out
Website: http://www.elevenmenout-themovie.com
Icelandic Film Centre Grant: Yes
Production Format: Super 16mm
Aspect Ratio: 2.35:1
Color: Yes
Sound: Dolby Stereo SR
Screening format and subtitles: 35mm film without sub. DigiBeta with English sub.
Crew
Cast
Company Credits
Festivals
Torino GLBT Film Festival, Italy, 2012
ARTscape, Lithuania, 2011
Brisbane Queer Film Festival, 2007
Traverse City Film Festival, 2007
Toronto International Film Festival, 2005
Berlin International Film Festival, 2005
Edda Award, 2005 - Award: Nominated for Feature Film of the Year. Nominated for Actor of the Year in a Supporting Role (Helgi Björnsson, Jón Atli Jónasson, Þorsteinn Bachmann).
Releases
Here! films, 2008 - DVD
SAM myndir, 2005 - DVD