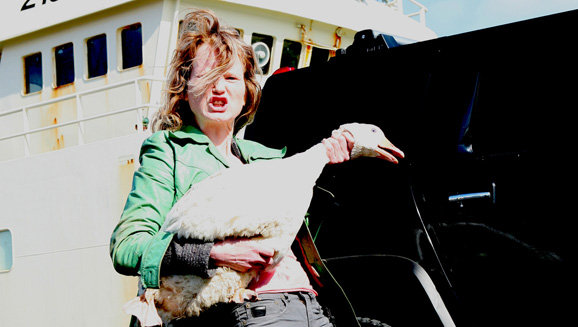 Back Soon
A comedic road-movie about Anna Hallgrimsdottir, a poetess, dish washer and marijuana dealer in her late thirties.
Synopsis
Tired of her lifestyle and the coldness of Iceland, Anna wishes to show her two sons more of the world. Finally, she decides to do something about it, move on, and somewhat change her lifestyle. The first step in her revival is to sell her business which consists of her mobile telephone which includes her big list of clients. The sale is an unusual one and the potential buyer promises her the asking price within 48 hours. During those 48 hours Anna gets into all kinds of "Icelandic familial adventures" as her kitchen fills up with customers/friends, partying, while waiting for her to come Back Soon.
About the film
Type: Feature Film
National Premiere Date: August 8, 2008
Genre: Comedy, Drama
Length: 90 min.
Language: Icelandic
Original Title: Skrapp út
International Title: Back Soon
Production Year: 2008
Production Countries: Iceland
IMDB: Back Soon
Website: http://zikzak.is/back-soon/
Icelandic Film Centre Grant: Yes
Production Format: 35mm
Aspect Ratio: 1.85:1
Color: Yes
Sound: Dolby
Crew
Cast
Company Credits
Festivals
Ultima Thule, ýmsir sýningarstaðir, Pólland, 2016
Scandinavia House, 2009
Kaunas International Film Festival, 2009
Nordic Heritage Museum, 2009
Nordic Lights Film Festival, 2009
Cleveland International Film Festival, 2009
Mar del Plata Film Festival, 2008 - Award: Nominated for Best Film
Locarno Film Festival, 2008 - Award: Variety Piazza Grande Prize
Sevilla Festival De Cine Europeo, 2008
Edduverðlaunin / Edda Awards, 2008 - Award: Nominated for Actress of the Year in a Leading Role (Didda Jónsdóttir).