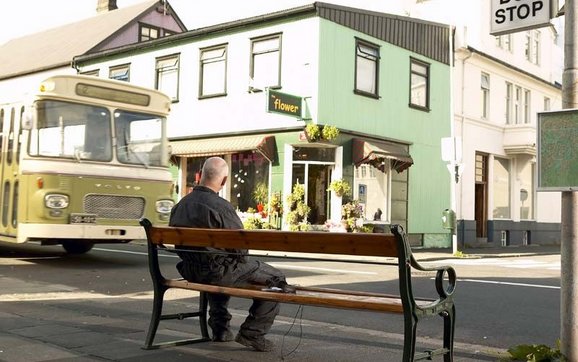 Niceland
Twenty-something Jed and Chloe live a simple life. They love each other, find pleasure in the small things, and plan to get married. When Chloe´s cat dies, however, both become inconsolable and deeply confused.
Synopsis
Jed and Chloe are in their early twenties, in love – and mentally handicapped. When Jed accidentally causes the death of Chloe's cat, which she loves almost as much as Jed, Chloe retreats into silence and loses her will to live. Convinced that there must be something else in life to give it meaning, something that will help revive Chloe's spirit, Jed sets out to find it. Led to believe that a scrap-metal dealer, Max, knows the precious answer, Jed cautiously enters the eccentric world of this solitary man. Yet in spite of the bond of friendship that develops between them, Max remains tight-lipped – even after Chloe falls into a coma and Jed begs him to tell him the secret. All that Max reveals is the tragedy that haunts him and pushes him toward self-destruction. In a moment of raw catharsis, Jed realizes that he, he himself, knows what he's been looking for. Whispering the magic words to Max, Jed saves him from a greater tragedy. Now he must hurry to tell Chloe. But when he arrives at the hospital, her bed is empty.
About the film
Type: Feature Film
National Premiere Date: October 1, 2004
Genre: Drama
Length: 86 min.
Language: English
Original Title: Næsland
International Title: Niceland
Production Year: 2004
Production Countries: Iceland, England, Denmark, Germany
IMDB: Niceland
Website: http://zikzak.is/niceland
Icelandic Film Centre Grant: Yes
Production Format: 35mm
Aspect Ratio: 1.85:1
Color: Yes
Sound: Dolby
Screening format and subtitles: 35mm film without sub. - 35mm film with Icelandic sub. - 35 mm film with French sub. - Betacam SP without sub. - DigiBeta without sub. -
Crew
Cast
Company Credits
Festivals
Artfilmfest International Film Festival, 2010
Yerevan International Film Festival, 2010
Summer Film School, 2010
Plus Camerimage Film Festival, 2009
Seattle Int'l Festival, 2005
Cleveland Int'l Festival, 2005
Warsaw Film Festival, 2004
Pusan Int'l Film Festival, 2004
Flanders Int'l Film Festival, 2004
Toronto Film Festival, 2004
Haugesund Film Festival, 2004
Karlovy Vary Film Festival, 2004 - Award: Nominated for the Crystal Globe.
Edduverðlaunin / Edda Awards, 2004 - Award: Best screenplay (Huldar Breiðdfjord). Nominated for Feature Film of the Year.
Releases