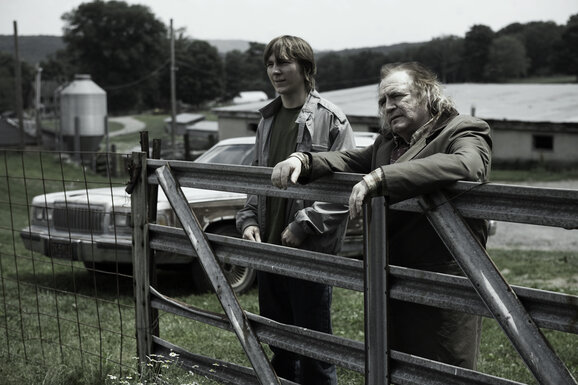 Good Heart, The
Good Heart, The
Good Heart, The
A grumpy bartender takes a young, homeless man in under his wing.
Synopsis
Lucas is a homeless boy living in a cardboard box under the Brooklyn Bridge. His existence has come to a dead-end but his pathetic attempt to commit suicide fails. At the hospital Lucas is introduced to Jacques, a grumpy bar-owner whose unhealthy lifestyle has brought him five heart attacks. Since he has not many years to live and no family, Jacques takes Lucas under his wing with the intention of having him continue his legacy.

Everything is going according to plan, but when the drunken stewardess, April, enters the bar, things start to go off track.
About the film
Type: Feature Film
National Premiere Date: March 5, 2010, Háskólabíó
International Premiere Date: September 11, 2009, Toronto International Film Festival
Genre: Drama, Comedy
Length: 90 min.
Language: English
Original Title: Good Heart, The
International Title: Good Heart, The
Production Year: 2009
Production Countries: Iceland
IMDB: Good Heart, The
Website: http://zikzak.is/thegoodheart/
Icelandic Film Centre Grant: Yes
Production Format: 35mm
Aspect Ratio: 2.35:1
Color: Yes
Sound: Dolby Stereo SR
Screening format and subtitles: 35mm film without sub. - DigiBeta without sub.
Crew
Cast
Company Credits
Festivals
Tokyo Northern Lights Festival, 2018
Northern Lights Film Festival, ýmsir sýningarstaðir, Hvíta-Rússlandi, 2016
Guadalajara International Film Festival, Mexico, 2013
Icelandic Films, Copehagen, Denmark and Aarhus, Denmark, 2013
Tokyo Northern Lights Film Festival, Japan, 2013
Galway Film Fleadh, 2011
Edduverðlaunin / Edda Awards, 2011 - Award: Costume Design of the Year (Helga Rós V Hannam). Director of the Year. Screenplay of the Year (Dagur Kári). make-up Achievement of the Year (Ásta Hafþórsdóttir, Stefán Jörgen Ágústsson). Set design of the Year (Hálfdán Pedersen). Nominated for Sound Design of the Year (Ingvar Lundberg, Kjartan Kjartansson). Nominated for Actor of the Year in a Leading Role (Brian Cox). Nominated for Film Score of the Year (Slowblow). Nominated for Featuer Film of the year. Nominated for Cinematography of the Year (Rasmus videbæk). Nominated for Editor of the Year (Andri Steinn Guðmundsson).
Scandinavian Film Festival L.A., 2011
Göteborg International Film Festival, 2010
SXSW Film Festival, 2010 - Award: Festival Favorites
Off Plus Camera, 2010
Summer Film School, 2010
North Cape Film Festival, 2010
Kvikmyndaverðlaun Norðurlandaráðs / Nordic Film Prize, 2010 - Award: Nominated
Nordische Filmtage Lübeck, 2010
Scanorama European Film Forum, 2010
Toronto International Film Festival, 2009
Pusan International Film Festival, 2009
Gijon International Film Festival, 2009
Television distribution
Cinema distribution
Iceland: Háskólabíó, 2010
Iceland: Smárabíó, 2010
Iceland: Regnboginn, 2010
Iceland: Bíó Paradís, 2010
Iceland: Bíó Paradís, 2011
Releases
Magnolia, USA, 2010 - DVD