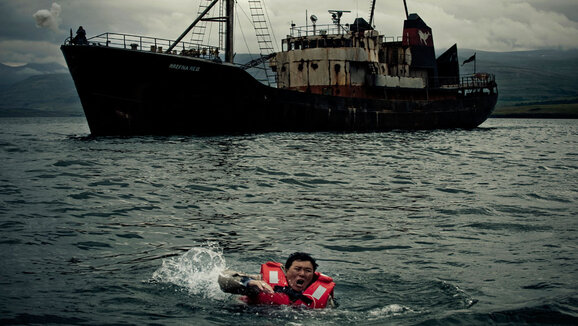 Reykjavik Whale Watching Massacre
The epic tale of a group of whale watchers whose ship breaks down – and they get picked up by a whaling vessel. Everything goes out of control.
Synopsis
A group of tourists gather on a whale watching vessel in Iceland anticipating the trip of a lifetime. When a freak accident leaves the captain of their boat mortally wounded and the first mate jumps ship, a small group of tourists are forced seek refuge on a passing former whaling vessel manned by a family of Fishbillies with a psychotic score to settle. With whaling no longer on the agenda, the tourists become the helpless prey aboard a ship that is set to sail on a sea of blood.
About the film
Type: Feature Film
National Premiere Date: September 4, 2009, Sambíó
Genre: Horror, Thriller
Length: 86 min.
Language: English, Icelandic
Original Title: Reykjavik Whale Watching Massacre
International Title: Reykjavik Whale Watching Massacre
Production Year: 2009
Production Countries: Iceland
Website: www.kisi.is/
Icelandic Film Centre Grant: Yes
Production Format: 35mm
Aspect Ratio: 2.35:1
Color: Yes
Sound: Dolby
Crew
Cast
Company Credits
Festivals
CPH Pix, 2010
Brussels International Fantastic Film Festival, 2010
Transilvania International Film Festival, 2010
Neuchatel International Fantastic Film Festival, 2010
San Francisco Indie Fest, Another Hole in the Head, 2010
Fantasy Filmfest, 2010
Estepona Fantasy & Horror Film Festival, 2010 - Award: Best Cinematography.
Strasbourg Fantastic Film Festival, 2010
Lund International Fantastic Film Festival, 2010
Motelx Lisbon International Film Festival, 2010
Scanorama European Film Forum, 2010
Noordelkjik Film Festival, 2010
Indonesia International Fantastic Film Festival, 2010
Berlin International Film Festival, 2010
Glasgow Film Festival, FrightFest, 2010
Off Plus Camera, Nordic Horizon, Cracow, Poland, 2010
Polish Film Festival in Gdynia, 2010
Edduverðlaunin / Edda Awards, 2010 - Award: Nominated for Costume Design of the Year (María Valles).
Screamfest Horror Film Festival, Los Angeles, USA, 2009
AFM American Film Market, Santa Monica, USA, 2009
Cinema distribution
Iceland: Bíó Paradís, 2011
Releases
SAM myndir, 2010 - DVD
E1 Entertainment, 2010 - DVD