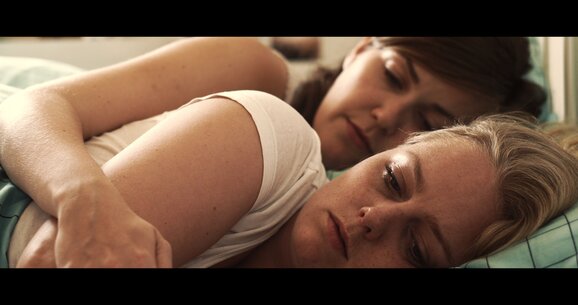 Best Friends Forever and Ever
Best Friends Forever and Ever
Best Friends Forever and Ever
Katrín og Sigga are best friends and live together. Their relationship satisfies their every need and sometimes even feels like a love affair. When Sigga gets pregnant after a one night stand, decides to keep the baby and invities the father to live with them, their perfect world turnes upside down.
Synopsis
Best friends forever and ever revolves around an intensive friendship between two women and the blurry lines between friendship and love.The movie explores the emotions of a young woman who believes she has found her soulmate: Her best friend. She refuses to seek further because why would you need anyone else in your life when you have a best friend?

Best friends forever and ever is a film about Katrin and Sigga, two women in their late twenties, who live together and have always been best friends. They share a flat, just the two of them, as this cohabitation has no room for boyfriends. Sometimes the relationship between the two flatmates even feels more like a love affair than a platonic companionship. All this changes when Sigga gets knocked up by a guy she doesn't really know and invites him to live with them. Katrin feels isolated and angry, as the stranger pushes himself into their perfect little world. This reveals the true colors of their relationship and how they deal with this new reality.
About the film
Type: Short Film
Genre: Drama
Length: 11 min.
Language: Icelandic
Original Title: Bestu vinkonur að eilífu amen
International Title: Best Friends Forever and Ever
Production Year: 2016
Production Countries: Iceland
Icelandic Film Centre Grant: No
Color: Yes
Crew
Cast
Company Credits
Festivals
Nordische Filmtage Lubeck, 2016
Nordisk Panorama Film Festival, Malmö, Svíþjóð, 2016