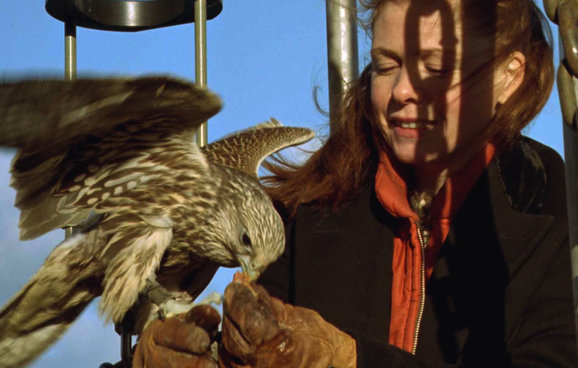 Falcons
Simon, who has taken too many punches from this world and has done too much time in U.S. prisons, returns to his ancestral homeland, Iceland, resigned to do himself in. Before he can complete the task, he meets Dúa, a free spirit he believes may well be his daughter.
Synopsis
Simon rescues Dúa from a close scrape with the law and together they escape to Hamburg, smuggling an Icelandic falcon - once the most prized export of the Vikings. Their plan is to sell it to a wealthy Arab. A great idea - until they try it.

Fridrik Thor Fridriksson delivers a subtle and poetic film in the league of his own classics Movie Days, Cold Fever and Devil´s Island. Seemingly as remote as the Icelandic setting, charismatic connoisseur actor Keith Carradine is in command of every scene and lends his character a calm but powerful presence.
About the film
Type: Feature Film
National Premiere Date: September 27, 2002, Háskólabíó
Genre: Drama, Thriller
Length: 95 min.
Language: Icelandic, English
Original Title: Fálkar
International Title: Falcons
Production Year: 2002
Production Countries: Iceland, Norway, Germany, France, United Kingdom
IMDB: Falcons
Icelandic Film Centre Grant: Yes
Production Format: 35mm
Aspect Ratio: 2.35:1
Color: Yes
Sound: Dolby Digital
Subtitles: 35mm w. English sub. DCP w. English and Greman sub.
Screening format and subtitles: 35mm film with English sub. -35 mm film with French sub. - DCP with English and German sub in production.
Crew
Cast
Company Credits
Festivals
Tallinn Black Nights Film Festival, 2018
Pula Film Festival, 2014
Artfilmfest International Film Festival, 2010
Summer Film School, 2010
Festival Intertational Mar del Plata, 2009
Plus Camerimage Film Festival, 2009
Edduverðlaunin / Edda Awards, 2002 - Award: Nominated for Feature Film of the Year. Nominated for Actor of the Year in a Leading Role. Nominated for Cinematography of the Year (Harald Paalgarrd).
Releases