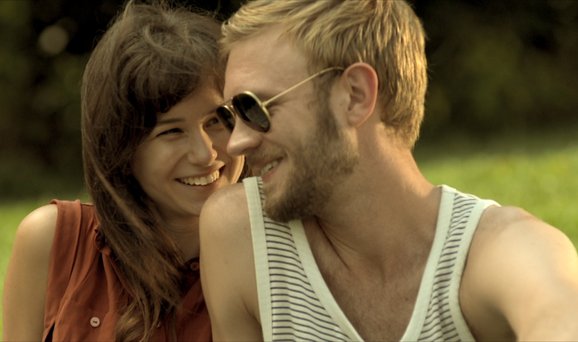 Love Story
A story of love, madness and 24-hour daylight. Solange's boyfriend Baldur mysteriously takes off for Iceland. She follows, but an even deeper mystery awaits her.
Synopsis
The story begins in New York City, when our protagonist - Solange, 30's - arrives home one night to find that her boyfriend has disappeared. He is Icelandic, a writer, but hasn't written much lately and we soon find out that he's been suffering from the onset of a mental illness. Solange receives a phone call from Baldur where he tells her that he is in Iceland. He doesn't explain why he left, he doesn't even sound like himself, and eventually hangs up on her. Solange is deeply disturbed by this and decides to follow him to Iceland. But once there she finds out that he has been hospitalized in a mental asylum. When Solange finally makes it to Baldur - her destination - he is lying in his room, drugged to the point of immobility.

Solange goes to Baldur's family for answers. But they are cold and unsympathetic to Solange's love for their son. The doctors mention Baldur's violent tendencies, but Solange has never seen that side of him. This madhouse is no place for him, and each time she visits the hospital this feeling of injustice increases: Baldur is indeed very "sane" next to the other patients. After countless failed attempts at communication with the various authorities, Solange realizes that she will have to take things into her own hands, for better or for worse.
About the film
Type: Short Film
National Premiere Date: September 29, 2012, Bíó Paradís
Genre: Drama
Length: 17 min.
Language: English, Icelandic
Original Title: Ástarsaga
International Title: Love Story
Production Year: 2012
Production Countries: Iceland, United States
Website: https://www.facebook.com/Astarsaga
Icelandic Film Centre Grant: No
Production Format: Sony F3
Aspect Ratio: 2.35:1
Color: Black & white
Sound: Stereo
Screening format and subtitles: HDCAM / Blu-Ray / MOV w. English subtitles
Crew
Cast
Company Credits
Festivals
Brest European Short Film Festival, 2014
Love & Anarchy - Helsinki International Film Festival, 2013
Nordisk Panorama, Malmö, Sweden, 2013
Cork Film Festival, 2013
Sequence Short-film Festival, Toulouse, France, 2013
Hafizasi Screening Series, Istanbul, Turkey, 2013
Clermont-Ferrand, 2013 - Award: In International Competition.
Minimalen Short Film Festival, Trondheim, Norway, 2013 - Award: In Nordic Competition.
Altkirch International Short Film Festival, 2013 - Award: In International Competition.
Aubagne International Film Festival, 2013
Rome Independent Film Festival, 2013 - Award: In International Competition.
Kyiv International Short Film Festival, 2013
Maryland Film Festival, 2013
River Film Festival, Padova, Italy, 2013 - Award: In International Competition.
Palm Springs International Shortfest, 2013 - Award: In Competition.
Sled Island Music and Arts Festival, Calgary, Canada, 2013
Gimli Film Festival, 2013
Big Sur International Short Film Screening Series, 2013 - Award: In International Competition.
Open Place International Short Film Festival, Latvia, 2013 - Award: In International Competition.
Woods Hole Film Festival, Cape Cod, USA, 2013 - Award: In International Competition.
Flickers: Rhode Island International Film Festival, 2013 - Award: In International Competition.
Reykjavik International Film Festival, 2012 - Award: Jury Special Mention Award.
Raindance Film Festival, 2012