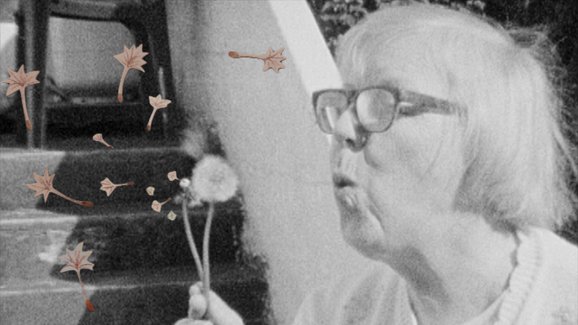 Grandma Lo-fi: The Basement Tapes of Sigrídur Níelsdóttir
Grandma Lo-fi: The Basement Tapes of Sigrídur Níelsdóttir
Grandma Lo-fi: The Basement Tapes of Sigrídur Níelsdóttir
At the tender age of 70 she started recording her own music – and then she just couldn't stop! Seven years later she had 59 albums to her name. The Danish/Icelandic artist Sigrídur Níelsdóttir is an adored figure in the Icelandic music scene, and this film is a tribute to her boundless creativity, created by the young musicians and artists that she inspired.
Synopsis
At the tender age of 70 she started recording and releasing her own music straight from the living room. Seven years later she had 59 albums to her name with more than 600 songs – an eccentric myriad of catchy compositions mixing in her pets, found toys, kitchen percussion and a Casio keyboard.

Sigríður Níelsdóttir is her name, and before long the Icelandic/Danish musician and visual artist became an adored cult figure in the Icelandic music scene, represented here by her young apprentices Mugison, múm, and Sin Fang of Seabear who pay tribute to the grandma's irresistibly catchy, yet eccentric pop tunes.

Shot mostly on Super-8 and 16mm, Grandma Lo-fi was created over a period of seven years by three musicians and debuting directors, capturing the most productive period in the life of Sigríður Níelsdóttir. In many ways Sigríður is like a cartoon character. Poetic moves such as taking in broken-winged pigeons that in return sing along to her tunes, or transforming a cream whisk into a helicopter, all call for animated sequences that bridge the obscure space between her exemplary imagination and a delightfully peculiar everyday existence.

Grandma Lo-fi is a cinematic tribute to an amazing musician and to her boundless creativity.
About the film
Type: Documentary
National Premiere Date: March 30, 2012, Bíó Paradís
International Premiere Date: November 5, 2011, Cinemateket, Copanhagen
Genre: Music
Length: 62 min.
Language: Icelandic, Danish
Original Title: Amma Lo-fi: Kjallaraspólur Sigríðar Níelsdóttur
International Title: Grandma Lo-fi: The Basement Tapes of Sigrídur Níelsdóttir
Production Year: 2011
Production Countries: Iceland, Denmark
Website: http://www.grandmalofi.is
Icelandic Film Centre Grant: Yes
Production Format: Super 8mm, 16mm, Digital
Aspect Ratio: 4:3
Color: Yes
Sound: Mono
Screening format and subtitles: Blu Ray w/English subtitles
Crew
Cast
Company Credits
Festivals
Ciranda de Filmes, 2018
Nordisk Panorama - Isländskt Retrospektiv, Malmö, 2015
Scandinavian House NY, 2014
Gothenburg International Film Festival, Sweden, 2013
Nordic Lights Film Festival (Nordic Heritage Museum), Seattle, USA, 2013
Edduverðlaunin / Edda Awards, 2013 - Award: Nominated for documentary of the year.
Helsinki International Film Festival, Finland, 2012
Gimli Film Festival, Canada, 2012
Nordisk Panorama, Shorts and Documentaries Film Festival, Finland, 2012
REC Festival Internacional de Cinema de Tarragona, Tarragona, Spain, 2012
Exposed Festival for First Films, Cologne, Germany, 2012
Sheffield DOC/FEST, Sheffield, UK, 2012
Open City Loncon Documentary Festival, UK, 2012
Norwegian Short Film Festival, Grimstad, Norway, 2012
Docaviv Film Festival, Israel, 2012
IndieLisboa Portugal, International Independent Film Festival, Portugal, 2012
Festival Air d'Islande, France, 2012
Bafici Festival, Buenos Aires, 2012
Rotterdam International Film Festival, Netherlands, 2012
Ambulante Mexioco Documentary Travelling Film Festival, 2012
MoMa/Documentary Fortnight, New York, 2012
South by Southwest, Texas, USA, 2012
Flatpack Festival, UK, 2012
CPH: DOX, 2011 - Award: Best International Music Film.
Television distribution
Cinema distribution
Iceland: Bíó Paradís, 2012