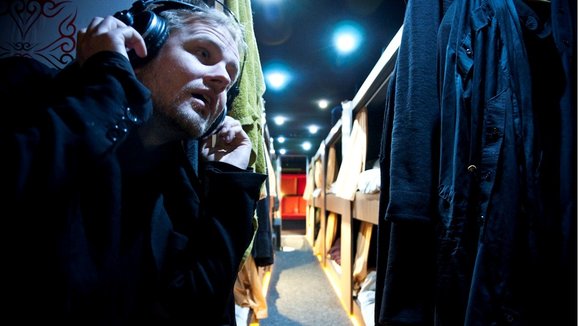 Everything, Everywhere, All the Time
Everything, Everywhere, All the Time
Everything, Everywhere, All the Time
Musicians Nico Muhly, Ben Frost, Sam Amidon and Valgeir Sigurðsson contributed to the others' performances on trek through Europe. The film gives you a chance to meet these colorful characters and explore the vision behind their label, Bedroom Community, as well as introducing the heart of its operation, the Greenhouse studios.
Synopsis
Everything, Everywhere, All the Time opens with the sound of musicians performing an old Icelandic folk song, Grýlukvæði. Only, a couple of years ago, they didn't know each other - now they're touring Europe together.

In 2006, Icelandic producer Valgeir Sigurðsson founded the Bedroom Community record label with Nico Muhly and Ben Frost, soon adding Sam Amidon to the intimate roster. After three years of concerts, collaborations and acclaimed album releases, the then four artists of Bedroom Community headed out together for a trek across Europe: The Whale Watching Tour.

More than just a series of concerts, the tour was an extension of the ongoing musical exchange between these diverse artists, having them contributing to each other's music on stage. The film follows the four artists on tour, but also provides insight into the colorful characters and explores the vision behind Bedroom Community as well as introducing the home of the label, the Greenhouse studios.
About the film
Type: Documentary
National Premiere Date: September 29, 2011, Bíó Paradís
International Premiere Date: November 5, 2011, Cinemateket, Copanhagen
Genre: Music
Length: 60 min. 48 sec.
Language: English
Original Title: Everything, Everywhere, All the Time
International Title: Everything, Everywhere, All the Time
Production Year: 2011
Production Countries: Iceland
Website: www.bedroomcommunity.net
Icelandic Film Centre Grant: No
Production Format: HD
Aspect Ratio: 16:9
Color: Yes
Crew
Cast
Company Credits
Festivals
Reykjavík International Film Festival, 2011
CPH: DOX, 2011